With China, Europe, and Japan Manufacturing PMIs are all signaling contraction, US Manufacturing PMI dropped to its weakest since September 2009 (at 50.4 vs 50.6 prior) and ISM Manufacturing tumbled to 51.2 - the lowest since Aug 2016.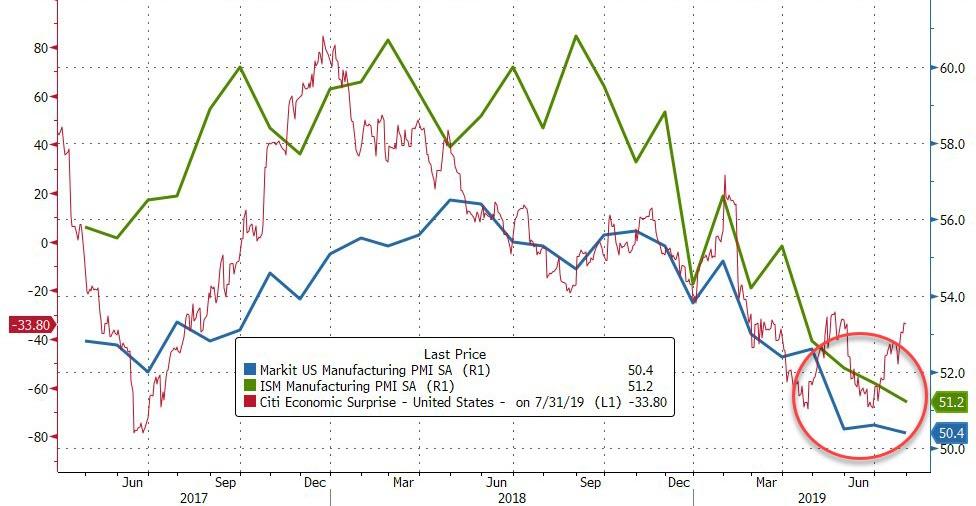 While manufacturing makes up only about 11% of the U.S. economy, the risk is that further weakness will extend to service providers and prompt those companies to reduce investment and limit hiring, endangering the record-long expansion.
Under the hood PMI is really ugly with employment contracting fore the first time since June 2013 and output expectations plunge to record lows; and ISM employment and prices paid plunged even if respondents claim prices are soaring because of tariffs (as new orders rebounded modestly).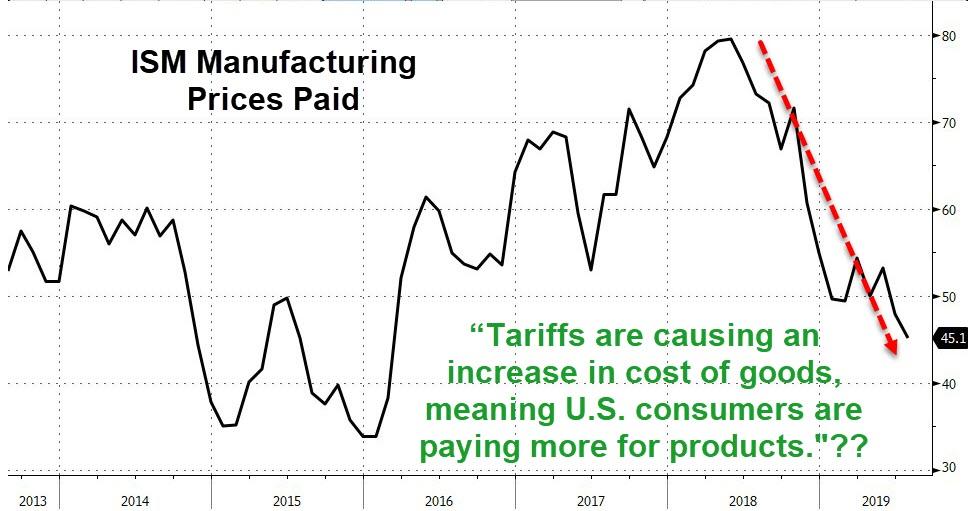 Chris Williamson, Chief Business Economist at IHS Markit said:
"US manufacturing has entered into its sharpest downturn since 2009, suggesting the goods-producing sector is on course to act as a significant drag on the economy in the third quarter. The deterioration in the survey's output index is indicative of manufacturing production declining at an annualised rate in excess of 3%.

"Falling business spending at home and declining exports are the main drivers of the downturn, with firms also cutting back on input buying as the outlook grows gloomier. US manufacturers' expectations of output in the year ahead has sunk to its lowest since comparable data were first available in 2012, with worries focused on the detrimental impact of escalating trade wars, fears of slower economic growth and rising geopolitical worries.

"Employment is now also falling for only the second time in almost ten years as factories pull back on hiring amid the growing uncertainty.

"More positively, new order inflows picked up for a second successive month. Although remaining worryingly subdued compared to the strong growth seen earlier in the year, the modest improvement will fuel hope that production growth could tick higher in August."
While US Manufacturing PMI is at its weakest in a decade, it remains in expansion unlike the rest of the world...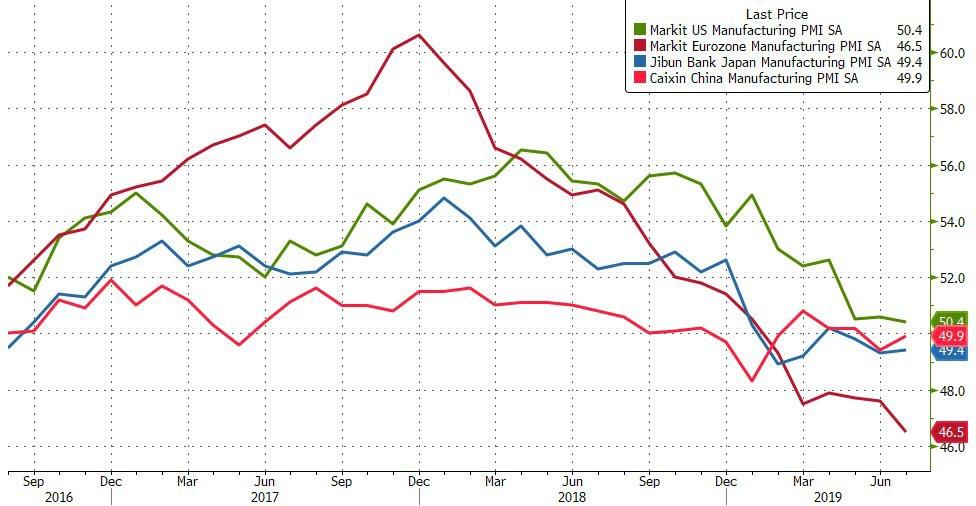 And cue "cleanest dirty shirt" analogies.
We give the last word to one of the ISM respondents:
"China tariffs and pending Mexico tariffs are wreaking havoc with supply chains and costs. The situation is crazy, driving a huge amount of work [and] costs, as well as potential supply disruptions." (Computer & Electronic Products)...