ISM Services Weakest Since 2016, Business Expectations Hit Record Low
On the heels of disappointing US Manufacturing ISM/PMI prints last week - and global surveys - US Services surveys were expected to show a modest rebound in July.
Markit's Services PMI did surprise to the upside, printing 53 (from 51.5 in June and above the 52.2 flash print), but business expectations plunged to a record low.
Although client demand strengthened further from May's recent low, service sector firms reported another fall in business confidence during July. The degree of optimism slipped for the sixth month running to a fresh series record low, reflecting heightened economic uncertainty.
ISM's Services survey collapsed to its weakest since August 2016 (printing 53.7 vs 55.5 expected)
Business activity fell to 53.1 vs 58.2 prior month

New orders fell to 54.1 vs 55.8

Prices paid fell to 56.5 vs 58.9

Backlog of orders fell to 53.5 vs 56

New export orders fell to 53.5 vs 55.5
So, Markit's Services respondents seem to be in a world of their own...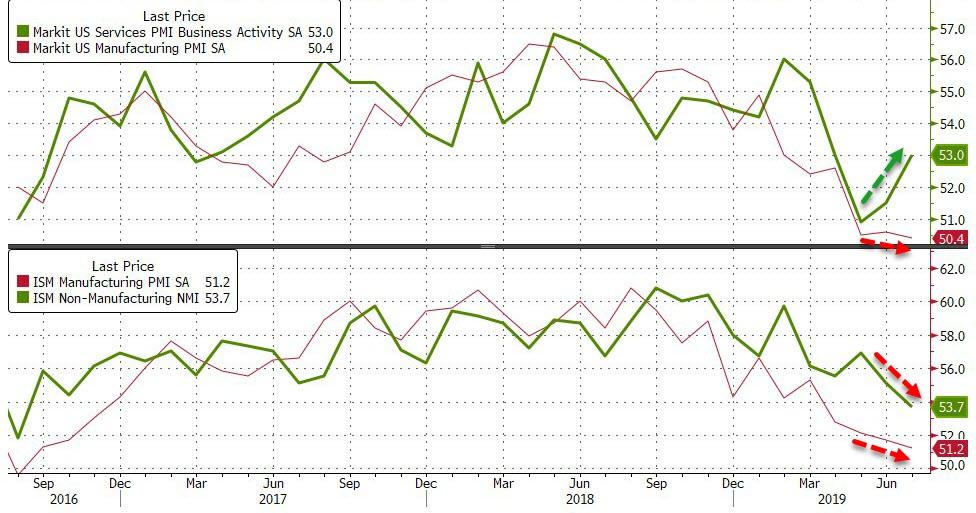 Commenting on the PMI data, Chris Williamson, Chief Business Economist at IHS Markit said:
"An improvement in the overall rate of business growth signalled by the services PMI for July is welcome news, but the overall weak pace of expansion remains a concern. The PMIs for manufacturing and services collectively point to GDP expanding at an annualized rate of under 2% in July, below that seen in the second quarter and among the weakest seen over the past three years.
However, Williamson was quick to steal the jam out of that donut...
"A sharp drop in future expectations meanwhile suggests downside risks have increased in the near-term at least, hinting that the upturn in growth seen in July could prove short-lived and that GDP growth could remain disappointingly modest in the third quarter.

"Optimism is at its lowest ebb since comparable data were first available in 2012 as companies have grown increasingly concerned about the year ahead, fueled by trade war worries and wider geopolitical jitters, as well as growing worries that the economic cycle has peaked."
So take your pick - headline improvement (buy stocks because here comes the rebound), or under the cover collapse in confidence (buy stocks because Fed will save us all)... or sell....