Authored by Mike Shedlock via MishTalk,
A big filibuster was in progress then suddenly it vanished. Tories voted for the Benn bill blocking No Deal.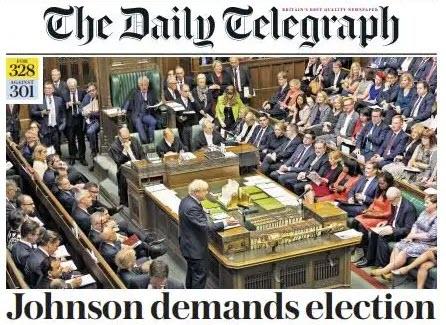 Sorting Out the Truly Weird
Remainers are bragging tonight that the Filibuster is broken. Guess who broke it.
Via Eurointelligence
The Conservatives in the House of Lords abandoned their filibuster in the early hours of this morning. The government whip in the Lords actively encouraged members to get the Brexit-extension bill approved by Friday. The bill would then return to the Commons for a final reading on Monday morning.

This looks to us like one of three things have happened overnight.

Maybe the government simply caved in as the Tory Lords realised that their filibuster would be broken eventually. Having a Brexit-supporting Lord reading the telephone book to you in order to kill time is right up there with the poetry-citing Vogons in the Hitchhikers' Guide to the Galaxy.

A second possibility is that the government may have concluded that it has other, more effective, means to frustrate the bill than an unpopular Lords filibuster. It could, for example, withhold Royal Assent. The legal expert Robert Craig recalls yet another arcane procedural requirement. It is called Queen's Consent which - if you can believe it - is different from Royal Assent. Queen's Consent relates to legislation that shifts the royal prerogative - in this case the right of the Crown, and the government as its agent, to conduct international negotiations. Withholding the Queen's Consent would constitute an effective government veto. We are not in a position to offer any legal or procedural interpretation of our own, let alone to judge whether this avenue will be pursued.

A third possibility is that the government and opposition parties may have struck a deal on the next election. Yesterday, Labour abstained on the government motion under the fixed-terms parliaments act to hold early elections. There is a big debate within the Labour Party, with Keir Starmer and other pro-Remain MPs wanting to prevent Johnson from being able to trigger a no-deal Brexit even if he were to win elections.

We still believe that elections are more likely than not, simply because we don't believe that Labour can hold its position for very long. Nicola Sturgeon, the leader of the Scottish National Party, also come out in favour of early elections and criticised Labour for trying to block it. The longer this stalemate goes on, the more it will reverberate against the party. As an opposition leader you don't want to go into an election with the prime minister calling you a big girl's blouse, as happened yesterday, or a chlorinated chicken.
Queen's Consent
I vote for the Eurointelligence second possibility, Queen's Consent.
Queen's Consent is different from Royal Assent.
I never heard of QC....