"The Only Thing Left Is A 'Trade Deal'" - Why The Bear Is Still Coming...
Authored by Lance Roberts via RealInvestmentAdvice.com,
Market Review & Update
Friday morning stocks rose as optimism over "trade" seemed to "trump" the ongoing antics in Washington as Democrats are once again trying to find a "smoking gun" to impeach the "Trumpster." Then, the market tanked, as Bloomberg reported the White House is weighing limits on U.S. portfolio flows into China – which promptly tanked stocks.
"The discussions are occurring as Washington and Beijing negotiate a potential truce in their trade war that's rattled the world's two biggest economies and investors for more than a year. They also come as China is removing limits on foreign investment in its financial markets. A U.S. crackdown on capital flows would therefore expose a new pressure point in the economic dispute and cause disruption well beyond the hundreds of billions in tariffs the two sides have levied against each other.

Among the options the Trump administration is considering: delisting Chinese companies from U.S. stock exchanges and limiting Americans' exposure to the Chinese market through government pension funds. Exact mechanisms for how to do so have not yet been worked out and any plan is subject to approval by President Donald Trump, who has given the green light to the discussion, according to one person close to the deliberations." 
With the Fed out of the picture for now, the market has become almost entirely dependent on "Trump tweets" for direction.
As noted last week, despite the short-term disappointment, the bulls continue to remain in charge currently, as markets cling near all-time highs. As we pointed out last week:
"The risk/reward does not favor the bulls short term. The market is back to very overbought conditions; the upside to the top of the bullish trend channel is about 1.9%. The downside risk is about 5.5%."
The chart below is updated through Friday's close. The good news is the overbought condition has been reduced while the market held support at the 50-dma. This potentially sets the market up for a rally next week, providing we get a "tweet" over the weekend confirming a "trade deal" is in progress.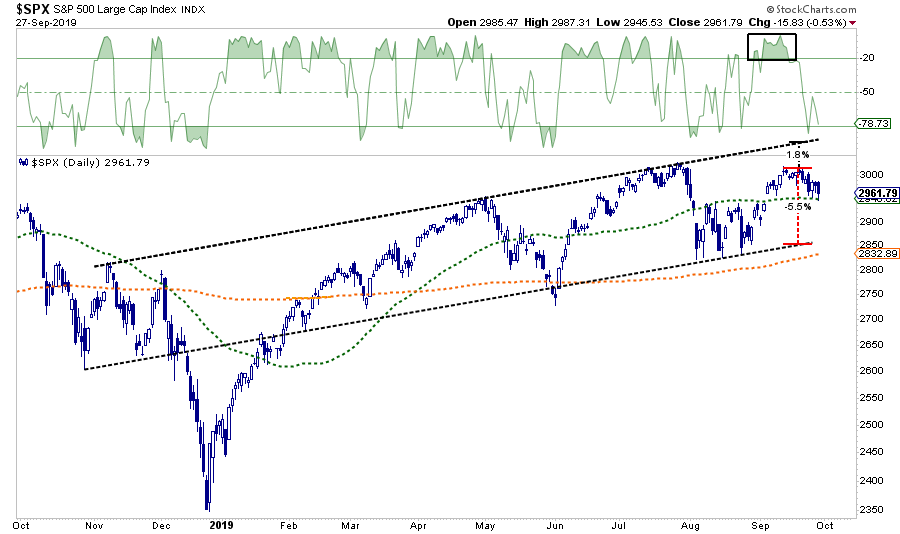 However, on an intermediate-term basis, a "sell signal" has been registered, which suggests there is downward pressure on stocks over the next month. The July and September tops are nearly identical suggesting a "double top" is in progress. This also increases the difficulty of the markets moving higher in the short-term. The good news is a break above resistance will support a move to 3300 as discussed previously.
Currently, there is support at the 50-dma, which coincides with the January 2018 top, but a break of that level will put the 200-dma into focus. The negative divergence between large and small-cap stocks continues after a brief reversion week before last. Whatever that was, seems to be...