The Impeachment Pantomime - A Primer
Authored by Patrick Lawrence via ConsortiumNews.com,
The political theatrics that begin today raise several questions. For starters, will Joe Biden be investigated for mounting evidence of corruption? And why is the  corporate media turning the CIA "whistleblower" into a phantom in plain sight?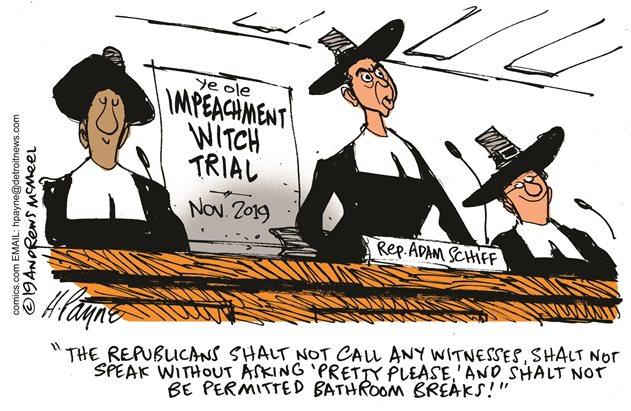 Now that "Russiagate" has failed and "Ukrainegate" neatly takes its place, many questions arise. Will the Democratic Party, this time in open collusion with the intelligence apparatus, succeed in its second attempt to depose President Donald Trump in what might fairly be called a bloodless coup? Whatever the outcome of the thus-far-farcical impeachment probe, which is to be conducted publicly as of Wednesday, did the president use his office to pressure Ukraine in behalf of his own personal and political interests? Did Trump, in his fateful telephone conversation last July 25 with Volodymyr Zelensky, Ukraine's president, put U.S. national security at risk, as is alleged?
All good questions. Here is another: Will Joe Biden, at present the leading contender for the Democratic presidential nomination, get away with what is almost certain to prove his gross corruption and gross abuse of office when he carried the Ukraine portfolio while serving as vice president under Barack Obama?
Corollary line of inquiry: Will the corporate media, The New York Times in the lead, get away with self-censoring what is now irrefutable evidence of the impeachment probe's various frauds and corruptions? Ditto in the Biden case: Can the Times and the media that faithfully follow its lead continue to disregard accumulating circumstantial evidence of Biden's guilt as he appears to have acted in the interest of his son Hunter while the latter sat on the board of one of Ukraine's largest privately held natural gas producers? 
Innuendo & Interference 
It is not difficult to imagine that Trump presented Zelensky with his famous quid pro quo when they spoke last summer: Open an investigation into Biden père et fils and I will release $391 million in military aid and invite you to the White House. Trump seems to be no stranger to abuses of power of this sort. But the impeachment probe has swiftly run up against the same problem that sank the good ship Russiagate: It has produced no evidence. Innuendo and inference, yes. Various syllogisms, yes. But no evidence. 
There is none in the transcript of the telephone exchange. Zelensky has flatly stated that there was no quid pro quo. The witnesses so far called to testify have had little to offer other than their personal opinions, even if Capitol Hill Democrats pretend these testimonies are prima facie damning. And the witnesses are to one or another degree of questionable motives: To a one, they appear to be Russophobes who favor military aid to Ukraine; to a one they are turf-conscious careerists who think they set U.S. foreign policy and resent the president for intruding upon them. It is increasingly evident that Trump's true offense...