Mish: Without A Doubt, Boris Johnson United The Tory Party
Authored by Mike Shedlock via MishTalk,
Boris Johnson united the Tories. In contrast, Jeremy Corbyn failed to unite Labour.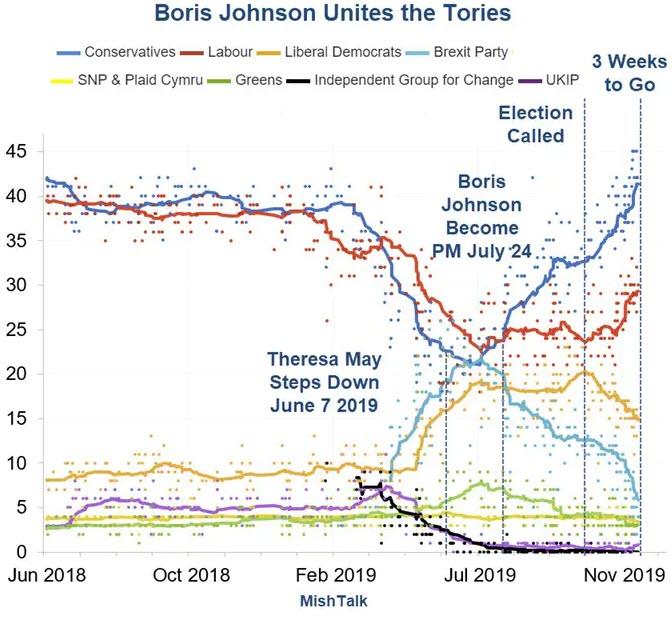 Six Point Compelling Picture In Chronological Order
Theresa May failed to deliver Brexit.

Support for the Tory Party collapsed.

Support for the Brexit Party soared.

Support for the Labour party collapsed as well

Things reversed for the Tories the moment it became apparent Boris Johnson would be the next Prime Minister.

Support for Labour, even after a recent surge languishes well below where it was a year ago.
You can like the trends or not, but there is no denying what the chart shows.
Meanwhile, I keep hearing ad nauseum that Labour is ahead of where it was when Theresa May called for elections in 2017.
Let's investigate that notion.
Polling Trends in 2017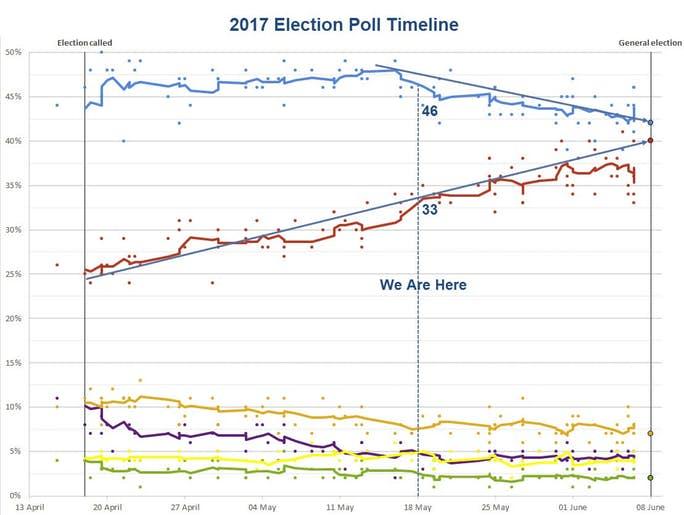 We are Here
Please compare the above chart with the lead chart.
Spot any differences?
For starters, Corbyn is not ahead af 2017. It seems to be a tie with Corbyn fading fast.
This is Not 2017
This is 2019, not 2017.

The trends before and since the election was called are not remotely comparable.

Theresa May was never very popular or likeable.

Corbyn was in a honeymoon period.

Today, Corbyn is the most unpopular opposition leader in UK history.
Corbyn is Amazingly Unpopular
NEW: everyone knows Corbyn's unpopularity is a problem for Labour, but I'm not sure people appreciate how bad it is https://t.co/R1DRmBAyRo
Corbyn's net satisfaction ratings are at -60, by far the lowest going into an election since @IpsosMORI started tracking this in 1979. pic.twitter.com/3S9ZgACtkn

— John Burn-Murdoch (@jburnmurdoch) November 19, 2019
Unless there is some sort of debate rally, Corbyn will be behind in 3 days, way behind in a week, and undeniably and impossibly behind in two weeks with the election the following week.
That is what the trends say. There is no point in denying the obvious.
Let's discuss why this is.
Corbyn's Message Does Not Resonate
Corbyn's message "Negotiate a deal then hold a referendum on it" does not resonate.
And why should it?
People, even Remainers are sick of this. Corbyn pledged to honor the referendum and didn't.
He wants another one. And after a bit he will support a referendum for Scotland too. He refused to rule it out.
And if he needs SNP support to break a deadlock in the case of a hung election, is there any doubt he won't grant one...