China's Pork Hyperinflation Hits A Record 110%, Keeping Credit Growth In Check
At a time when Beijing is bracing to reveal to the world that China's economic growth has dipped below 6% for the first time in modern history (and in reality is about half that), and the PBOC is desperate to find ways to stimulate the economy without causing another mini debt bubble, the world's most populous nation continues to face a major hurdle: pork hyperinflation.
As was revealed in the latest inflation data, China's CPI accelerated further to 4.5% Y/Y in November, well above the 4.2% consensus expectation, and the highest annual increase since 2011, driven by higher inflation in fresh vegetable and hyperinflation pork prices. The silver lining: the surge in China's price basket may be easing as on month-over-month terms headline CPI inflation moderated to +8.2% (seasonally adjusted annual rate) in November from +9.1% in October.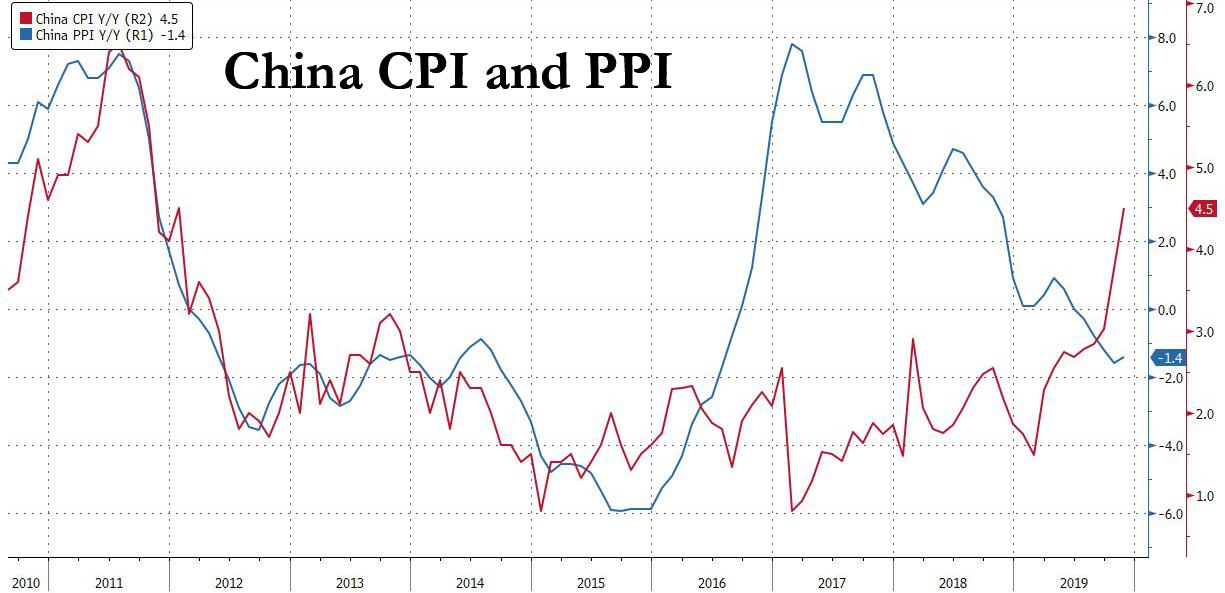 As has been the case for the past year, the culprit behind the headline CPI surge was food inflation, which accelerated further to a record +19.1% in November from +15.5% in October, primarily on higher inflation in fresh vegetable and pork prices.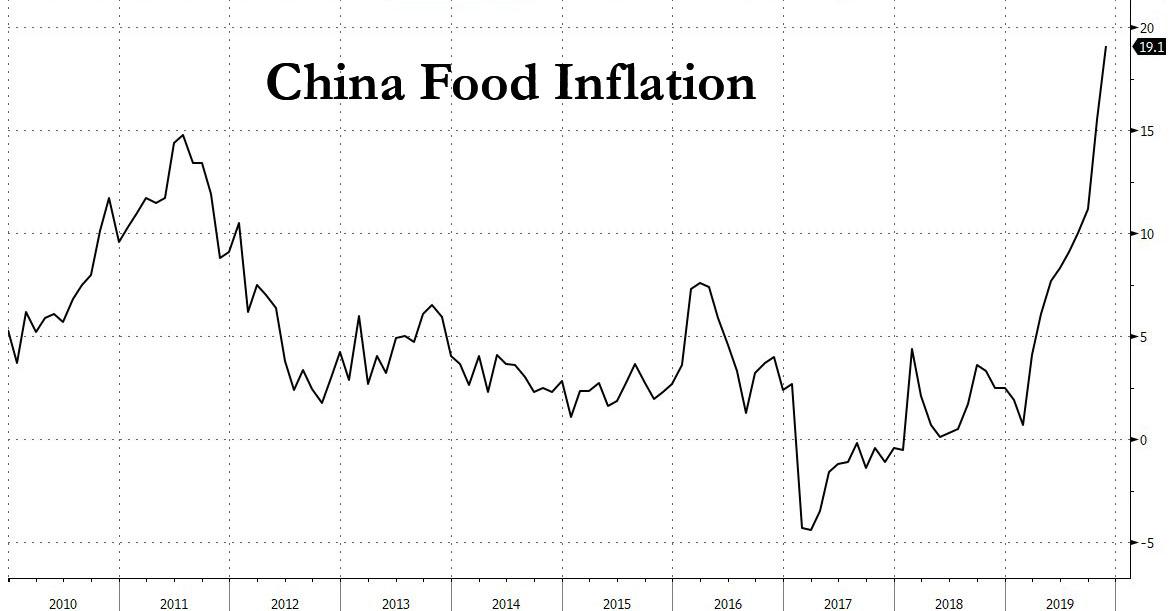 And as iw well-known by now, the driver for surging food inflation remains China's history pork shortage which in November sent prices surging further, rising to a mindblowing 110.2% yoy in November from 101.3% yoy in October, pushing up headline CPI inflation by around 0.2pp relative to October (although the sequential increase slowed).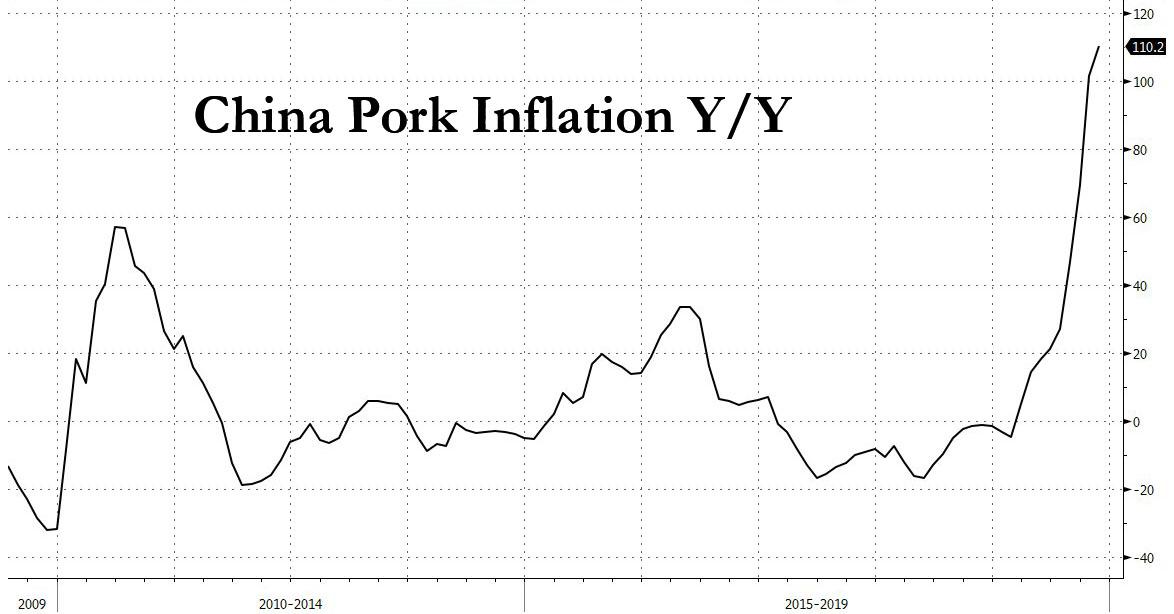 A new development in November, this time it wasn't just pork prices as inflation in fresh vegetable rebounded to +3.9% yoy from -10.2% yoy in October, driving headline CPI inflation up by another 0.4%.
The silver lining: non-food CPI inflation remained relatively low at 1.0% yoy.
Looking at the other side of the ledger, the just as important for China's companies PPI print printed negative again although the deflation narrowed slightly to -1.4% in November, from -1.5% in October. Deflation in the petroleum industry lessened the most, though partially offset by lower inflation in coal mining.
The reason why PPI is so important is because there is a direct correlation between Chinese industrial profits and factory gate prices, or in this case PPI deflation. And absent a rebound in PPI, China's corporate sector - already loaded to the gills with debt - will face growing bankruptcy pressures as declining cash flows will increasingly be unable to meet debt service payments.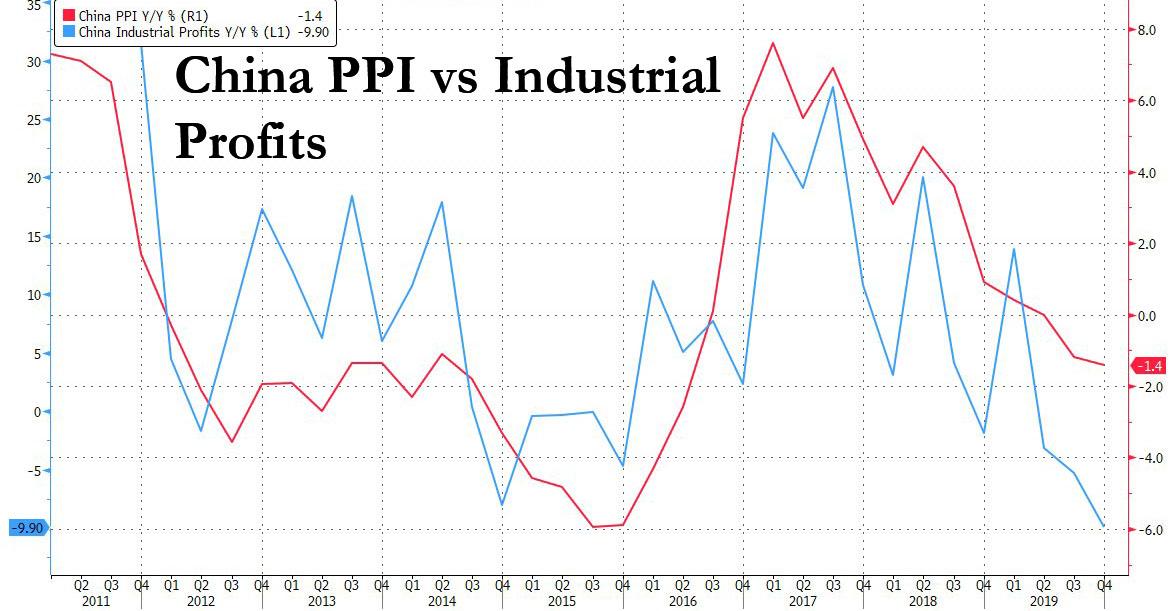 The problem: as long as CPI is soaring, the PBOC's hands are generally tired in how much monetary stimulus it can inject. And as Goldman notes this morning, "headline CPI inflation is likely to remain elevated in the coming months" as high frequency data suggest year-on-year inflation in pork prices has remained high in early December, though moderating somewhat. Prices in fresh vegetables have picked up further in early December...