Gunman In Jersey City Shooting Published Anti-Semitic, Anti-Police Material Online
Gunman In Jersey City Shooting Published Anti-Semitic, Anti-Police Material Online
Update: The New York Times reports that one of the suspects who carried out yesterday's shooting at a kosher grocery in Jersey City had published anti-police and anti-semitic material online.
A suspect involved in a prolonged firefight in Jersey City, N.J., that left six people dead, including one police officer, had published anti-Semitic and anti-police posts online and investigators believe the attack was motivated by those sentiments, a law enforcement official familiar with the case said on Wednesday.
The suspects have not yet been identified, and the only victim who has been identified is Detective Seals. The NYT suggests that the attack might have been planned to terrorize a burgeoning community of ultra-orthodox Jews.
* * *
Despite early reports insisting that there was no evidence linking the two shooters who engaged in an hours long gun-battle with police in Jersey City yesterday with any existing hate groups, the city's mayor changed his tune Tuesday night.
Jersey City Mayor Steven Fulop tweeted Tuesday night that authorities have come to the conclusion that the attacks "targeted" the Jewish community, based on their ongoing investigation into the shootout that left three civilians, a detective, and the two suspects dead.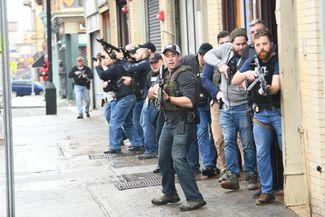 Fulop added that "due to an excess of caution," businesses in that area might notice an increased police presence in the coming days and weeks.
Based on our initial investigation (which is ongoing) we now believe the active shooters targeted the location they attacked. Due to an excess of caution the community may see additional police resources in the days/weeks ahead. We have no indication there are any further threats

— Steven Fulop (@StevenFulop) December 11, 2019
We have been in close contact with the Jewish community in #JerseyCity to help where we can. While we work through details/investigation of today's incident I know the entire Jersey City community stands together with the Jewish Community during these challenging times. https://t.co/jHDpXitxHP

— Steven Fulop (@StevenFulop) December 11, 2019
Fulop added that his office has been in "close contact" with the Jewish community in the city.
Following Fulop's lead, NYC Mayor de Blasio also condemned the attack and railed against anti-Semitism in a series of tweets:
Although there is no credible or specific threat directed against New York City, I have directed the NYPD to assume a state of high alert.
Tonight, NYPD assets are being redeployed to protect key locations in the Jewish community. Tomorrow, we will announce additional measures.

— Mayor Bill de Blasio (@NYCMayor) December 11, 2019
DeBlasio also ordered police to remain on "high alert", even though there were no attacks in NYC. On an otherwise quiet Tuesday, gunshots erupted in the streets. Detective Joseph Seals was killed in the gun battle that kicked off...