Europe's Economy Records Worst Quarter Since 2013, Slowing To Persist Into 2020 
The Eurozone economy continues to stumble into December, recording one of the weakest paces of growth since 2H13. Employment has plunged to a five-year low, and a manufacturing recession continues to disrupt the region. Though the service sector has been resilient during the economic deceleration, the loss of momentum in overall growth could signal more slowing ahead.
IHS Markit's Composite Purchasing Managers index printed at 50.6 in December, missing estimates of 50.7. The print, barely above 50, has been sliding since early 2018, now at a level where the region exited a double-dip recession in 2H13.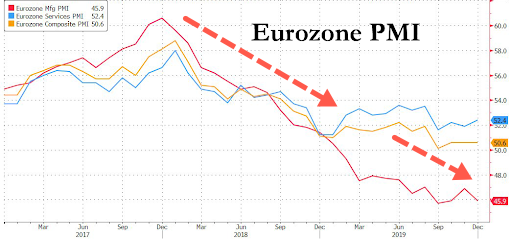 Commenting on the slumping Eurozone PMI is Chris Williamson, Chief Business Economist at IHS Markit said:
"The Eurozone economy closes out 2019 mired in its worst spell since 2013, with businesses struggling against the headwinds of near-stagnant demand and gloomy prospects for the year ahead. "The economy has been stuck in crawler gear for fourth straight months, with the PMI indicative of GDP growing at a quarterly rate of just 0.1%."

"There are scant signs of any imminent improvement. New order growth remains largely stalled and job creation has almost ground to a halt, down to its lowest for over five years as companies seek to reduce overheads in the weak trading environment and uncertain outlook."

"While service sector growth remains encouragingly resilient in the face of the manufacturing downturn, any further softening of the labour market could cause weakness to spill over."

"Germany's steep manufacturing downturn has added to the chance of its economy contracting slightly in the fourth quarter, but France is enjoying a more resilient performance, providing a key area of support to help keep the eurozone growing."
Last week, the European Central Bank (ECB) warned about the challenging outlook for Europe into 2020.
ECB President Christine Lagarde said Europe shows signs of stabilization and downside risks are "somewhat less pronounced."
IHS Markit's Eurozone Manufacturing PMI Output index printed 45.9 for December, continuing to decelerate from a 47.4 print in the prior month. This month's print is at the lowest level in 86 months.
The epicenter of the manufacturing recession is in Germany. Factory production recently dropped at one of the fastest rates since 2012.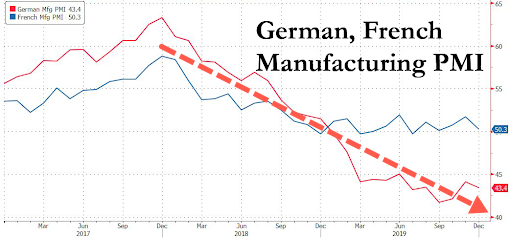 Outside of Germany, Markit data from U.K. manufacturing production for December dropped to the lowest level in seven years.
"Brexit-related uncertainty intensified in the lead up to the general election," Williamson said. "Firms hope that the election will bring clarity."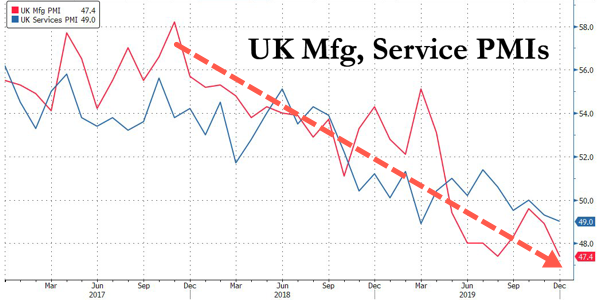 Europe's continued slowdown could discredit the "green shoots" narrative that global equity markets have already priced in. Central banks are plowing in records amount of liquidity into the system to produce a synchronized recovery - though monetary policy has become less effective than ever before as the global economy is out of sync....