Howard Marks: Now Is Not A Good Time To Be Investing
Howard Marks: Now Is Not A Good Time To Be Investing
Over the weekend we showed that amid the most violent market meltup since Jan 2018, institutions, retail and systematic investors (i.e., algos, quants, risk parity, CTAs, etc) were now "all on." And, according to one of the most iconic investors in recent history, they are also on their own.
In an interview on Bloomberg TV with Erik Shatzker, Oaktree Capital's Co-Chairman, and one of the most respected investors on Wall Street, Howard Marks flat out said that anyone buying stocks here, with the S&P at nosebleed record levels benefiting from the Fed's $100 billion per month liquidity injection, will likely lose.
Answer a question posted by Shatzker if now is a good time to be investing, Marks says that "it's not", and notes that "the market's been up for 11 years, it's quadrupled off the low, we're in the longest bull market, the longest expansion in history, profits are not rising, stock prices are, it's what we call a liquidity-driven rally, it comes from people having a lot of money to spend," Marks told Bloomberg Television.
He's right: as the WSJ noted earlier, US corporate earnings have been down for 4 consecutive quarters - a full-blown earnings recession, and yet the S&P was up almost 30% in 2019. Why? Because of multiple expansion, i.e., the ongoing unprecedented effort by central banks to reflate asset prices:
The US has been in an earnings recession for 4 consecutive quarters: the 29% gain in 2019 was entirely due to multiple expansion https://t.co/RAF2Svxbid

— zerohedge (@zerohedge) January 13, 2020
What does this latest artificial surge in stocks mean to the one of Wall Street's greatest minds?
"It doesn't mean that the market's going to go down tomorrow, but it does mean that the odds are not, in my opinion, in the investor's favor."
Marks advised that "this is a time to have less risk than you did 3 or 5 years ago", which is ironic in a market which as DB noted over the weekend, has virtually everyone all in.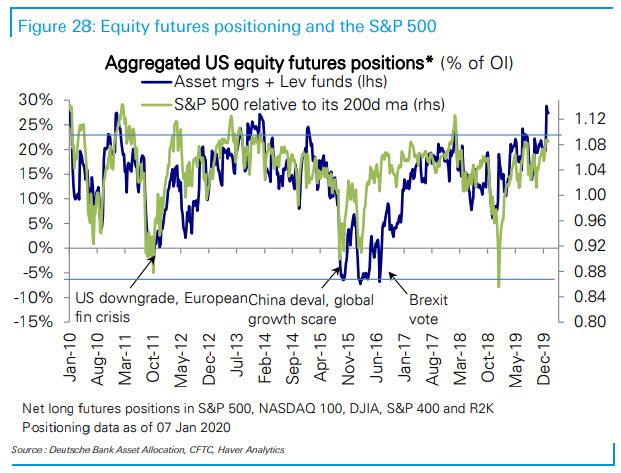 The reason: sooner or later securities prices will rise to a levels where they'll go "over the cliff." Not just yet thought: even as the S&P 500 has been climbing to new records, spreads on high-yield bonds are again nearing their post-crisis low.
Referring to his latest memo published earlier today and titled "You Bet", in which Marks discusses his investing life as a "gambler", Marks said that now more than ever is a time when investors need to be careful, not just where they invest but whom they invest with. The bottom line to Marks is that investing, like gambling, comes down to three things: skill, luck and information, but the distinction between skill and luck is critical, because one is like roulette;...