End Of An Era As Goldman Stops Reporting Prop Trading Results
It's the end of an era for Goldman: after a decade of breaking out its prop trading results, which in the aftermath of the Volcker Rule was renamed "Investing and Lending" (because apparently all it took to confuse regulators was a name change), the bank once known as Government Sachs (and in its glory days better known for incubating virtually all central bankers and possessing the street's most fearsome prop trading desk, but those days are now long gone) and is now better known for its co-branded Apple credit cards which target subprime consumers, has stopped reporting its prop results.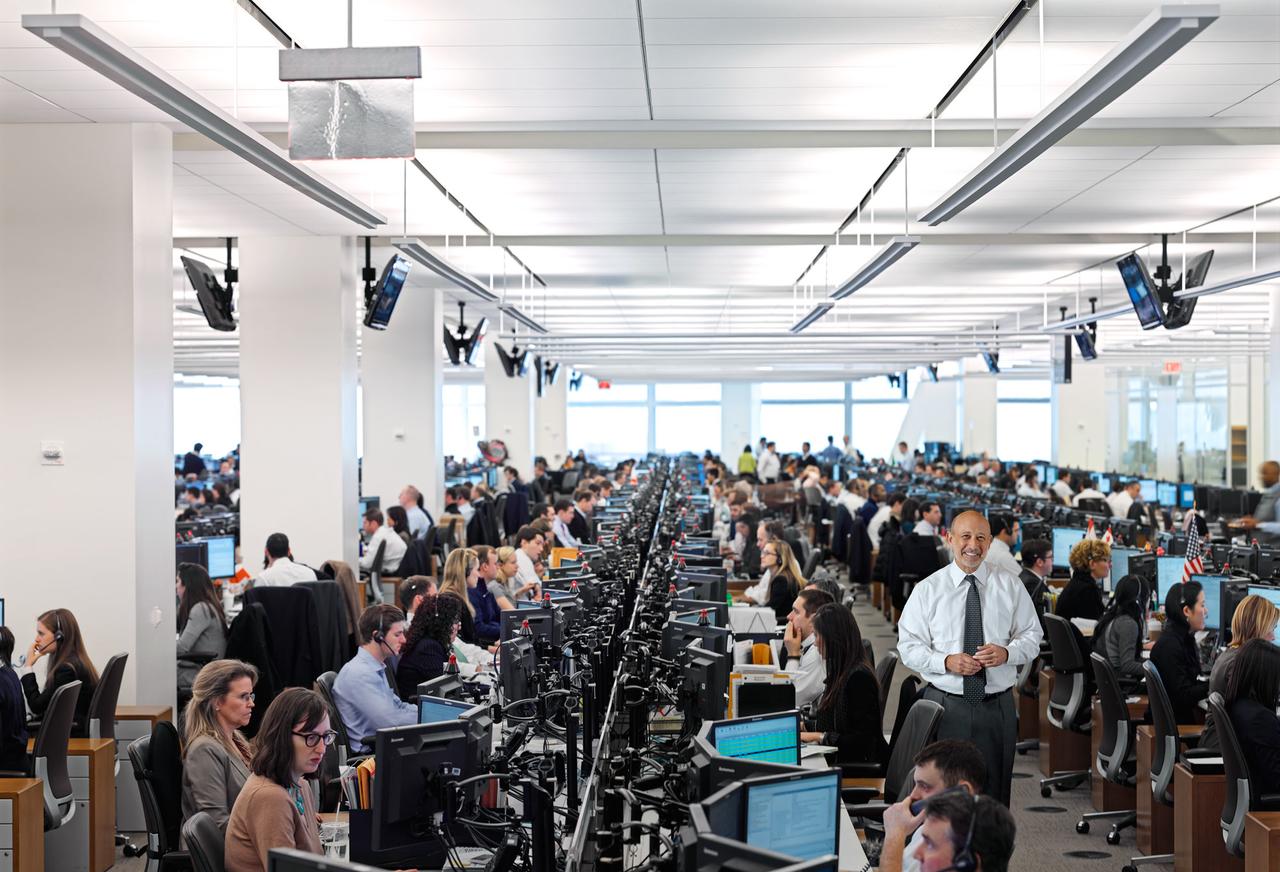 As first noted last week, Goldman revamped its quarterly reporting structure to "inject more visibility" into how the firm makes money, in response to growing investor concerns that report "clarity" could boost the stock price. And while the stock price was indeed boosted, Goldman decided to not only reclassify its revenues making any historical comparison impossible but add far more complexity and opacity into how it makes money, by deleting the investing & lending reporting line as well as any mention of this segment, often its most profitable in periods of rising markets - expect, paradoxically for the current "rising market" - but one that also drew complaints about transparency.
This is what Goldman's Q3 Earnings summary page looked like: note the prominently featured Investing and Lending group.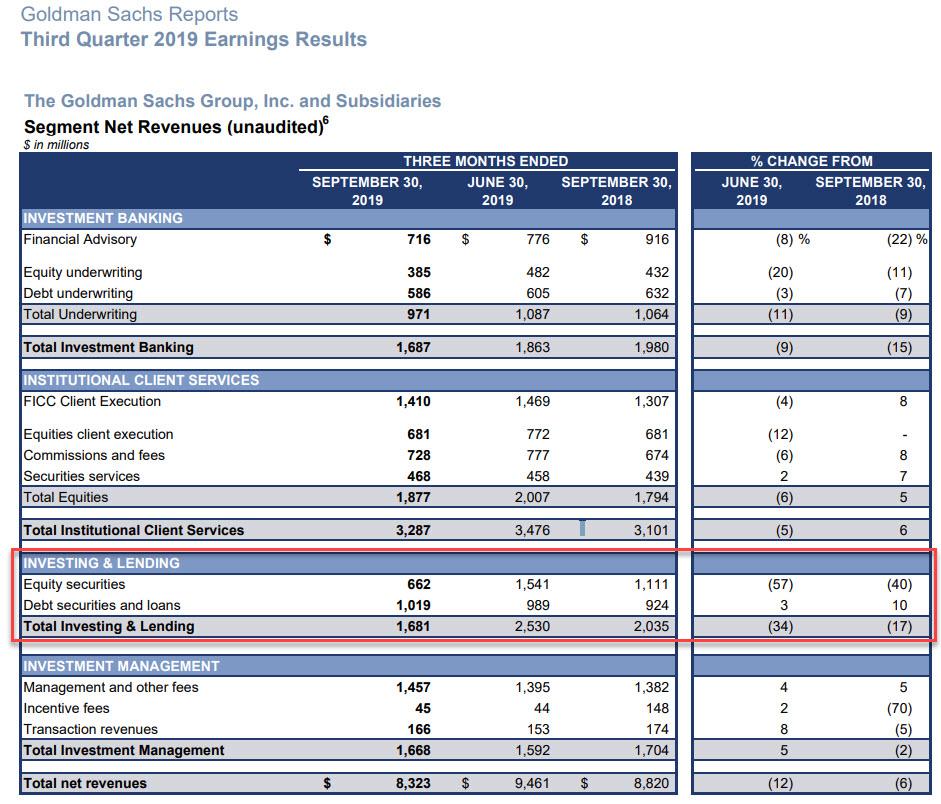 And this is what the Earnings Summary page looks like as of this morning: not only is Investing and Lending completely gone, but while Goldman has kept Investment Banking, it has renamed Institutional Client Services as Global Markets, while Investment Management has been split into i) Asset Management and ii) Consumer and Wealth Management.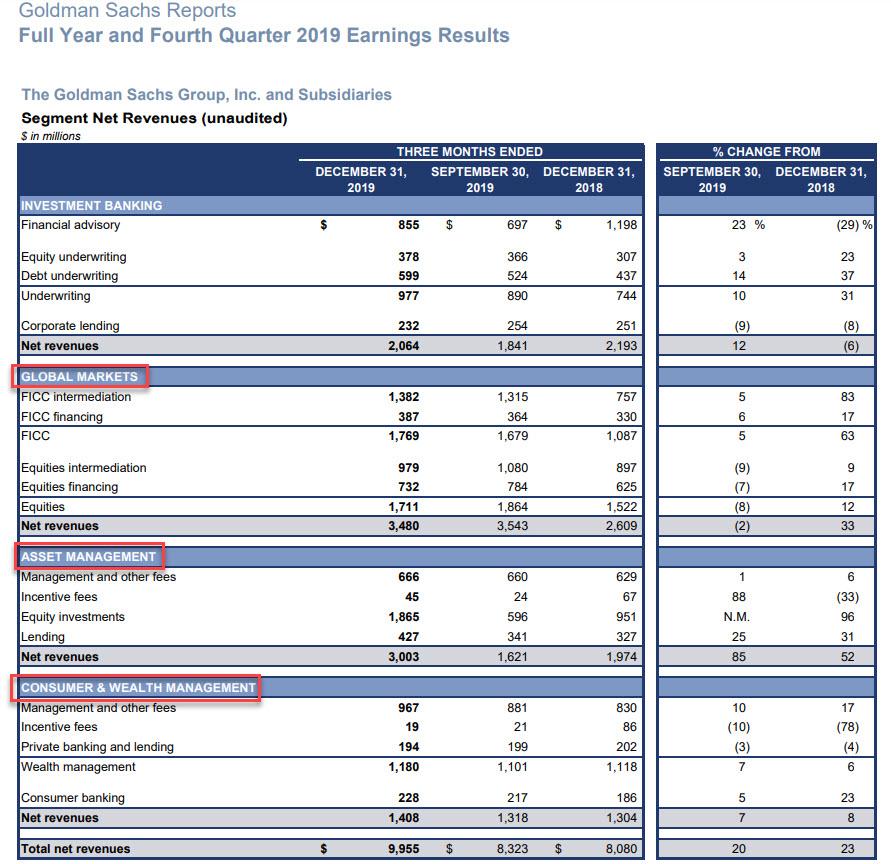 So what do we know now? Well, sadly not much, since all the newly broken out data has to be backed into now missing historical income statement lines which Goldman has decided not to do... you know, because it is so concerned with transparency.
What we do know is what Goldman wants us to know, which is that in Q4, revenues increased by 23% to $9.955BN, stronger than the $8.5BN expected, although due to a 42% surge in operating expenses to $7.3 Billion, Net Income was down by 24% to $1.92 billion, resulting in EPS of $4.69, and missing expectations of $5.54.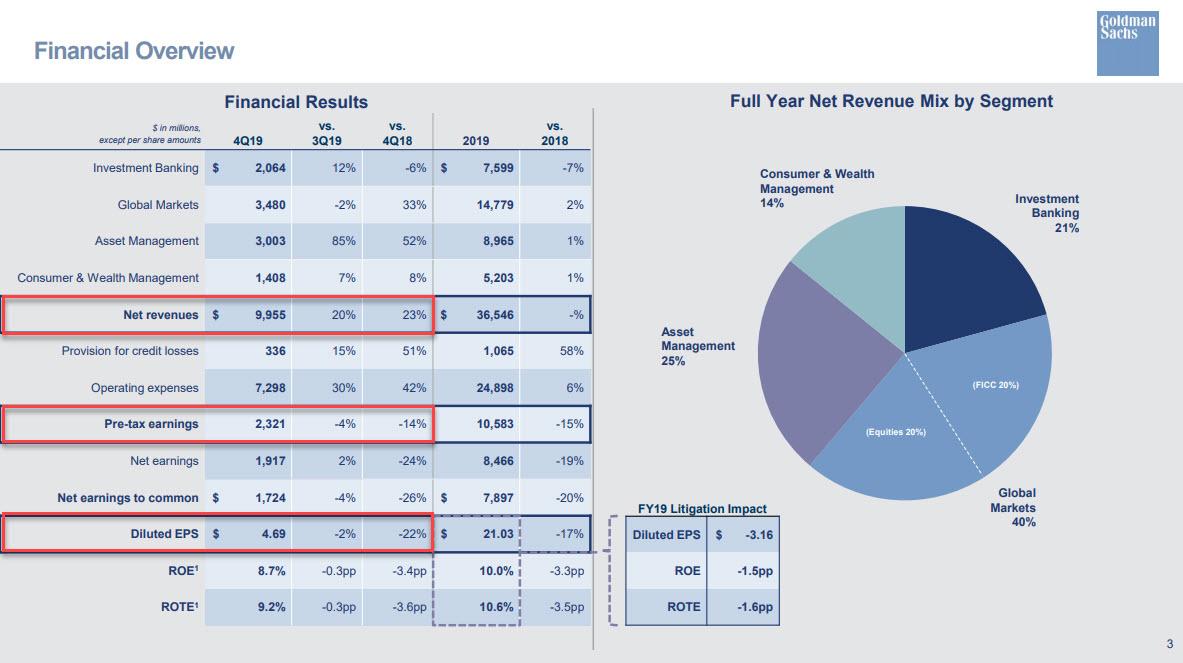 The reason for the expense surge was a $1.09BN legal charge taken as ahead of the bank's settlement over its criminal activity involving 1MDB. As a reminder, the scandal involves claims of embezzlement and money laundering that triggered investigations in the U.S., Singapore, Switzerland and beyond. Goldman Sachs has been under scrutiny for years over its role in raising money for state-owned investment fund 1Malaysia Development Bhd and for the money it made on the deals, roughly $600 million.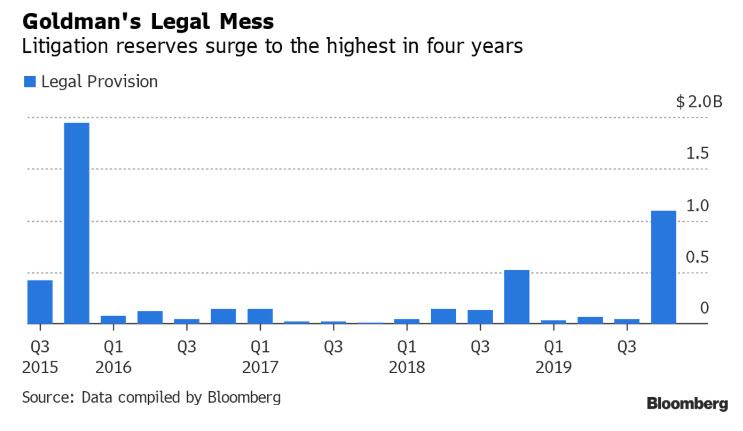 As Goldman notes, while...