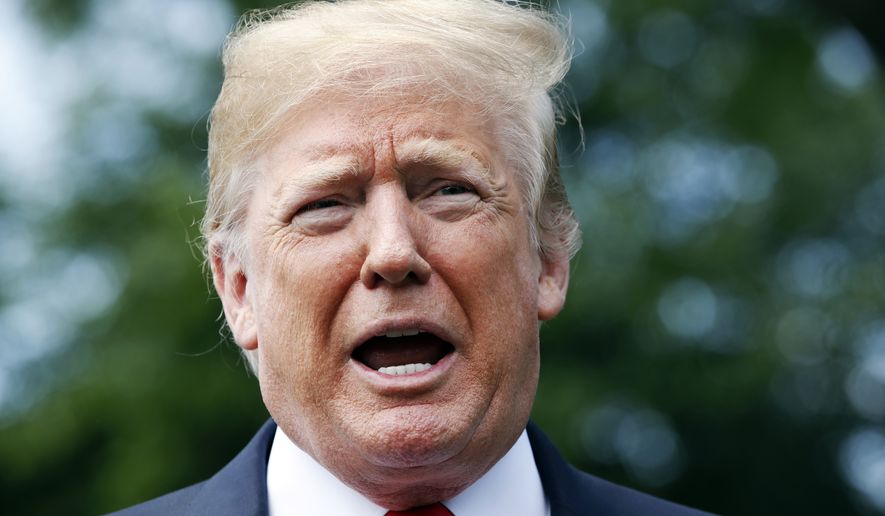 President Trump announced Wednesday that he had asked the Commerce Department to consider an investigation of automobile and auto parts imports that could clear the way for imposing tariffs or quotas.
The investigation, known as a Section 232 investigation, would determine whether the import of cars and truck threatens national security interests.
"Today, I met with Secretary of Commerce Wilbur Ross to discuss the current state of our automobile industry. I instructed Secretary Ross to consider initiating a Section 232 investigation into imports of automobiles, including trucks, and automotive parts to determine their effects on America's national security," Mr. Trump said in a statement.
He added, "Core industries such as automobiles and automotive parts are critical to our strength as a Nation."
The president had teased the announcement throughout the day, saying he had "big news" for the U.S. auto industry.
"There will be big news coming soon for our great American Autoworkers. After many decades of losing your jobs to other countries, you have waited long enough!" he tweeted in the morning.
The move could free Mr. Trump to slap tariffs on U.S. cars made in Mexico — something he has threatened to do to fix the loss of American manufacturing jobs from the North American Free Trade Agreement.
Mr. Trump's past use of tariffs and threats of tariffs irked free trade advocates, including many in his Republican Party. The tariffs he threatened on $150 billion worth of Chinese imports stoked fears of a trade war between the world's two largest economies, but both sides have backed off tariffs for ongoing trade talks.
Mr. Trump previously used a Section 232 investigation to impose tariffs on steel and aluminum imports, citing the national security interest of maintaining domestic production of metals used for military purposes....
Section 232 of the Trade Expansion Act of 1962 gives the executive branch the ability to conduct investigations to "determine the effects on the national security of imports." Within 270 days of initiating any investigation, the Commerce Department must issue a report to the president with the investigation's findings, including whether certain imports threaten to impair America's national security.The president then has 90 days to determine whether he concurs with the findings and, whether to use his statutory authority under Section 232 "to adjust the imports" as necessary, including through tariffs or quotas.
The Washington Times Comment Policy
The Washington Times welcomes your comments on Spot.im, our third-party provider. Please read our Comment Policy
[1]
before commenting.References
^
Comment Policy
(www.washingtontimes.com)