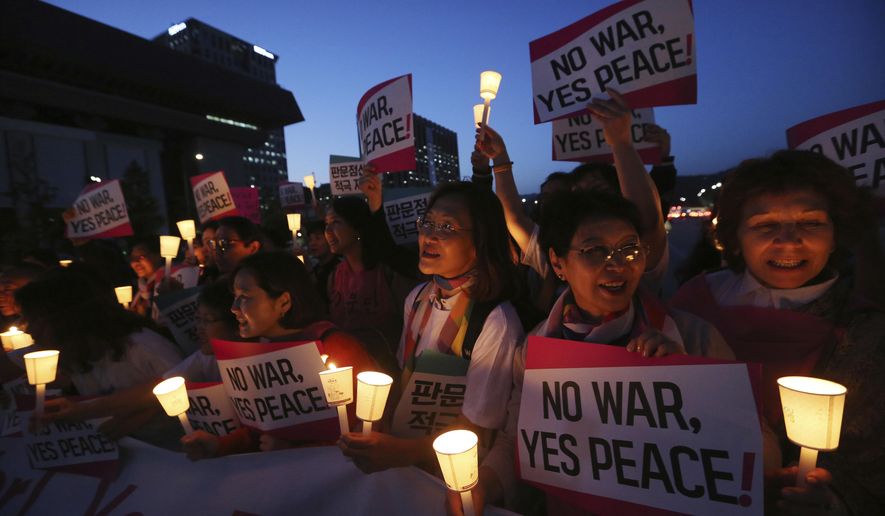 TOKYO (AP) - North Korea[1] has renewed its threat to pull out of a summit next month with President Donald Trump[2], saying it is just as ready to meet in a nuclear confrontation as at the negotiating table.
Pyongyang's latest salvo follows recent comments by U.S. Vice President Mike Pence suggesting the North may end up like Libya if it doesn't move forward with denuclearization.
Choe Son Hui[3], the vice minister of foreign affairs, was quoted Thursday by the North's state-run news agency slamming as "ignorant" comments Pence made in an interview with Fox News that compared North Korea[4] to Libya, saying they showed he does not understand North Korea[5]'s situation.
She also questioned whether the summit, scheduled for June 12 in Singapore, would be worthwhile if the remarks reflect Washington[6]'s position.
"We will neither beg the U.S. for dialogue nor take the trouble to persuade them if they do not want to sit together with us," KCNA quoted her as saying. "Whether the U.S. will meet us at a meeting room or encounter us at nuclear-to-nuclear showdown is entirely dependent upon the decision and behavior of the United States."
The summit plan has hit a number of speed bumps recently as both sides have begun taking tougher positions and trading barbs. Trump[7] met with South Korean President Moon Jae-in on Tuesday at the White House for consultations and suggested the summit could be delayed. But the U.S. says it is still working on making it happen.
Choe[8], a veteran diplomat and former head of the North America desk at the Foreign Ministry, was responding to comments Pence made to Fox News this week that it would be a "mistake" for the North Koreans to think they can "play" Trump[9]. Pence said both the Clinton and Bush administrations had been "played" by the North Korean government.
"We offered concessions to the North Korean regime in exchange for promises to end their nuclear weapons program, only to see them break those promises and abandon them," he said, adding that if Pyongyang does not go along with talks to give up its nuclear weapons, Washington[10] could return to the "Libya model."
That suggestion, which was made earlier this month by National Security Adviser John Bolton and also sparked an outraged response from the North, is especially inflammatory to Pyongyang....
The Libya model refers to negotiations in 2004 that led to the shipping of nuclear components to the U.S. from Libya under Moammar Gadhafi. But in Pyongyang's mind the most important part of the story is what came after that. Gadhafi was deposed after a 42-year reign and killed in 2011 - the year Kim assumed power in
North Korea
[11]
- while his country spiraled into chaos."In view of the remarks