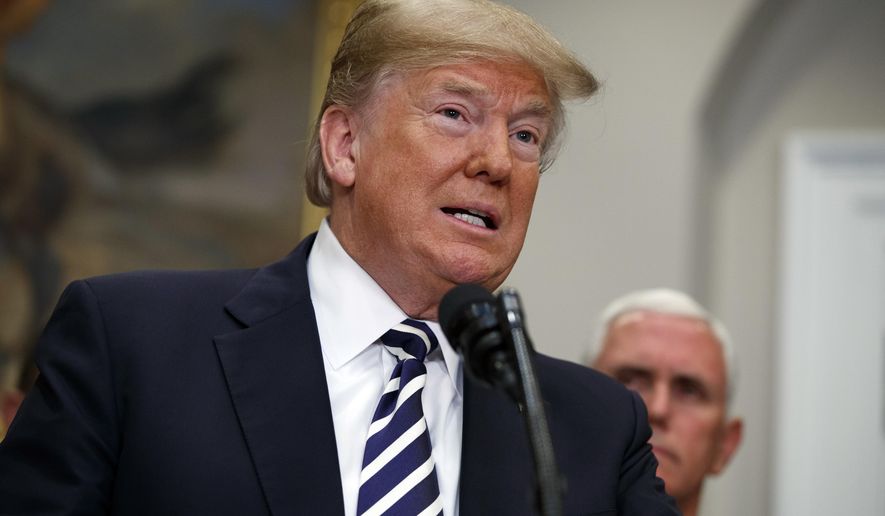 WASHINGTON (AP) - The Latest on President Donald Trump[1] and North Korea (all times local):
2:30 p.m.
Vladimir Putin says finding a solution to the North Korea nuclear tensions is of great importance to Russia and says North Korea's sovereignty should be guaranteed.
The Russian president said Friday that "a full denuclearization of North Korea" should involve giving "North Korea a guarantee of their sovereignty and inviolability."
Putin said that "if you don't behave aggressively and if you don't corner North Korea, the result that we need will be achieved faster than many would think, and at less cost."
Nothing that North Korea borders Russia, Putin said resolution "is of critical importance, especially when the situation is on the brink of war."
His comments came as President Donald Trump[2] said the U.S. was talking with North Korea about putting the summit back on track. On Thursday, Trump[3] had canceled the summit, citing the North's "tremendous anger and open hostility."
__
8:23 a.m.
President
Donald Trump
[4]
says North Korea's latest statement on nuclear talks is "good news" and that "we will soon see where it will lead."The North Korean government on Friday said it is still "willing to give the U.S. time and opportunities" to reconsider talks "at any time, at any format." The statement was issued in response to
Trump
[5]
's abrupt cancellation of the June summit between the two countries in the U.S. bid to get North Korea to abandon its nuclear weapon.
Trump
[6]
tweeted Friday: "Very good news to receive the warm and productive statement from North Korea. We will soon see where it will lead, hopefully to long and enduring prosperity and peace. Only time (and talent) will tell!"__1:08 a.m.For President
Donald Trump
[7]
, Kim Jong Un (kim jawng oon) may be the deal that got away.
Trump
[8]
and his team weathered insults, tolerated unanswered phone calls and waited hours for negotiating partners who never showed up as they sought to keep the planned Singapore summit with Kim on track.With prospects dimming and aides increasingly skeptical,
Trump
[9]
at first clung to his plans to meet with the North Korean leader, seeking to pull off what the president saw as a history-making nuclear deal.
Trump
[10]
could envision Nobel laurels.Eager for a bold accomplishment,
Trump
[11]
agreed to Kim's March overture for a summit in less than an hour, ignoring warnings of seasoned advisers.But on Thursday morning,
Trump
[12]
determined that - for now anyway - the meeting was an unrequited diplomatic dream.
Copyright © 2018 The Washington Times, LLC. ...
The Washington Times Comment Policy
The Washington Times welcomes your comments on Spot.im, our third-party provider. Please read our Comment Policy
[13]
before commenting.References
^
Donald Trump
(www.washingtontimes.com)