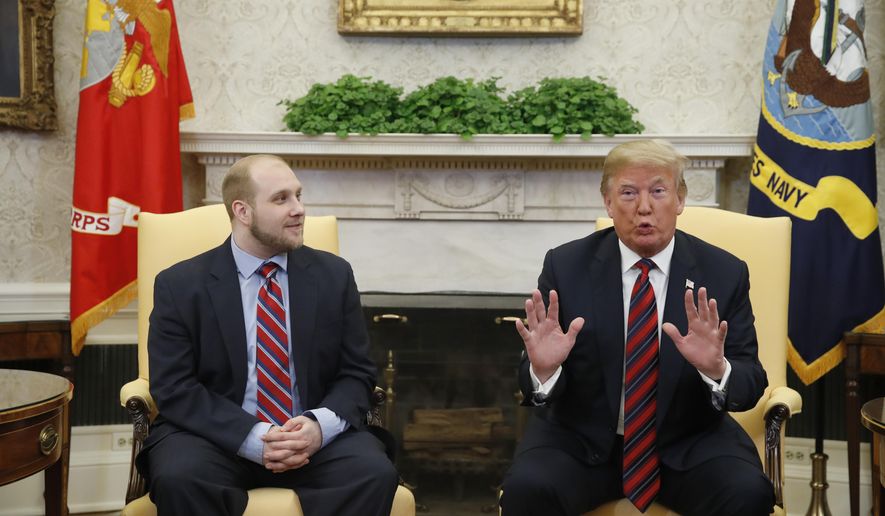 WASHINGTON (AP) - Joshua Holt[1], a Utah man who traveled to Venezuela in 2016 to marry a woman he met online but soon found himself jailed and later branded the CIA[2]'s top spy in Latin America, has been set free by the anti-American Maduro[3] government.
He says he was "overwhelmed with gratitude."
Holt[4] and his wife, Thamara Caleno, arrived Saturday evening at Washington Dulles International Airport for a tearful reunion with his parents, Laurie[5] and Jason Holt. A few hours later, President Donald Trump welcomed them to the White House[6].
"Those two years, they were a very, very, very difficult two years," said an emotional Joshua Holt, sitting next to Trump[7] in the Oval Office. "Not really the great vacation that I was looking for. … I'm just so grateful for what you guys have done."
To Holt[8], Trump[9] said: "You've gone through a lot. More than most people could endure."
The Utah man's mother, Laurie Holt[10], thanked Trump[11] and the lawmakers for her son's safe return, adding: "I also want to say thank you to President Maduro[12] for releasing Josh and letting him come home."
Their release came one day after Sen. Bob Corker, R-Tenn.[13], held a surprise meeting in Caracas[14] with Venezuelan President Nicolas Maduro[15], who the Trump administration says runs a "dictatorship" and just won re-election in a "sham" vote.
Trump[16], in a tweet, described Holt[17] as a "hostage." The U.S. contended Holt[18] was held on trumped-up charges.
Months of secret, backchannel talks between an aide to Corker[19], chairman of the Senate Foreign Relations Committee, and close allies of Maduro[20] preceded their return. Yet Holt[21]'s release had seemed unlikely even a week ago....
Joining
Trump
[22]
in the Oval Office were Corker, Utah Sens. Orrin Hatch and Mike Lee, and Utah Rep. Mia Love, all Republicans. The lawmakers thanked Trump for his support.The
White House
[23]
learned from
Corker
[24]
on Friday of
Holt
[25]
's impending release, according to a U.S. official who has closely followed
Holt
[26]
's plight and spoke on condition of anonymity to describe the private talks.
Holt
[27]
and his wife were reunited at the Caracas airport with her daughter from a previous relationship, and all three boarded a chartered flight to Washington. "We are on our way home,"
Corker
[28]
tweeted.When he departed the Caracas airport earlier,
Holt
[29]
told The Associated Press that the ordeal had left him "exhausted."
Venezuela
[30]
's communications minister, Jorge Rodriguez, said their release was a goodwill gesture that