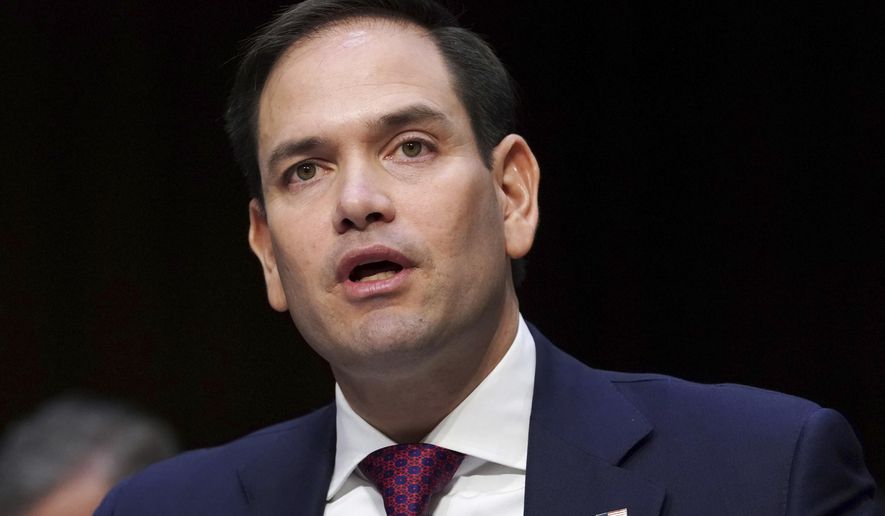 Sen. Marco Rubio said Sunday he doesn't think North Korean leader Kim Jong-un will ultimately agree to get rid of his country's nuclear capabilities, which would force the rest of the world to make a difficult choice about how to deal with the rogue nation as negotiations over a summit between President Trump and Mr. Kim continue.
"If you don't think you're ever going to be able to reach a deal where he gives up his missiles and gives up his nukes, then you're going to have to make a decision, which is [where] we've been the whole time," Mr. Rubio said on ABC's "This Week."
"And that is, are you prepared to live in a world where someone like him possesses not just nuclear weapons, but the ability to hit the mainland of the United States? And if you're not, then you're going to have to do something to go after them at some point," the Florida Republican said.
"And I'm not in favor of that. It's not something that I relish or take lightly. I'm just telling you that could very well be the option we wind up with at the end," he said.
"Because ultimately, I remain convinced that he does not want to denuclearize. In fact, he will not denuclearize. But he wants to give off this perception that he's this open leader, that he's peaceful, that he's reasonable," he said.
Mr. Trump last week called off a June 12 summit with the North Korean leader in Singapore, but said Saturday the meeting potentially could still happen....
Mr. Kim and South Korean President Moo Jae-in held a secret meetingSaturday in the Demilitarized Zone between the two countries as negotiations surrounding the summit continue.
The Washington Times Comment Policy
The Washington Times welcomes your comments on Spot.im, our third-party provider. Please read our Comment Policy
[1]
before commenting.References
^
Comment Policy
(www.washingtontimes.com)