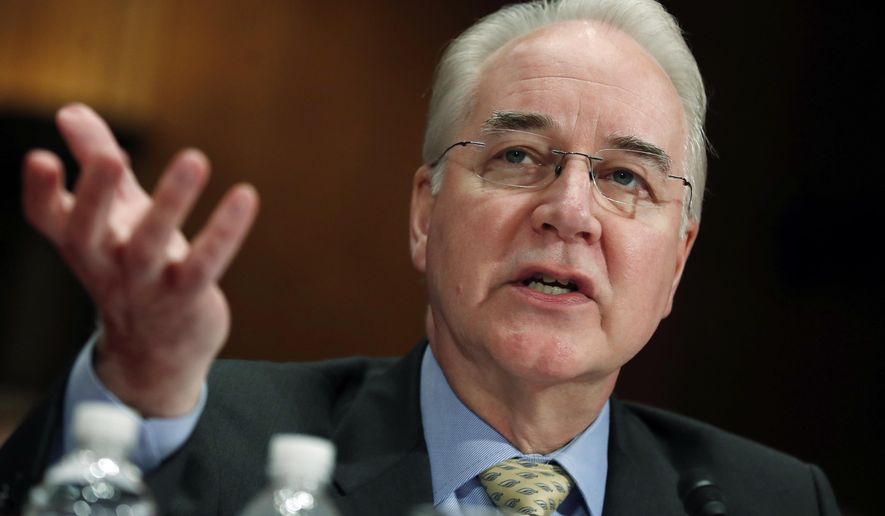 Former Health and Human Services Secretary Tom Price[1] said Tuesday the GOP's decision to repeal Obamacare's individual mandate without a broader overhaul of the heath care system will likely increase costs on consumers who remain in the program.
The comments from Mr. Price[2], who was ousted from HHS last fall over his pricey business travel, were remarkable, since he claimed the mandate was ineffective while in office. Also, Democrats have been making the same argument in accusing President Trump and his Republican allies of sabotaging the 2010 law's marketplace.
GOP majorities were unable to repeal and replace the Affordable Care Act last year, though they zeroed out penalties tied to its unpopular mandate to hold insurance as part of a tax overhaul later on, saying middle-class Americans needed financial relief.
"That may help, but it still is nibbling at the side," Mr. Price[3] told the World Heath Care Congress in D.C. "And there are many, and I'm one of them, who believes that that actually will harm the pool in the exchange market, because you'll likely have individuals who are younger and healthier not participating in that market, and consequently, that drives up the cost for other folks within that market."
Mr. Price[4]'s comments were a turnabout from his time in the administration, when he said the mandate wasn't working and that people were shirking coverage because they didn't like what President Obama's signature program had to offer.
Actuaries say premiums may rise by 10 percent, on average, due to the loss of the mandate, as insurers gird for a sicker consumer pool due to the loss of the mandate. Some blue states, like New Jersey, are poised to slap the penalties back onto residents through their state tax systems, however.
Capitol Hill Democrats and moderate Republicans tried to ameliorate the efforts of repealing the mandate with an Obamacare stabilization bill, though their efforts fell apart amid rancor over abortion and mid-term campaign politics. Conservative lawmakers also refused to support any bill that would bolster Obamacare.
Mr. Price[5], a former congressman from Georgia, said what to do about the mandate and the vast expansion of Medicaid, the insurance program for the poor, were the key sticking points that doomed the GOP's efforts to replace Obamacare last year.
He was criticized for not doing more to get the effort across the finish line, and he was nudged out of office after a series of Politico reports revealed he used expensive private plans for travel instead of cheaper options....
Mr. Price
[6]
said moving forward, a bill that would bundle Obamacare money and siphon it back to the states as block grants is a promising option.The bill, know as "Graham-Cassidy," fell short last year but is the preferred option for the White House and GOP lawmakers moving forward, though
Mr. Price
[7]
says he doesn't