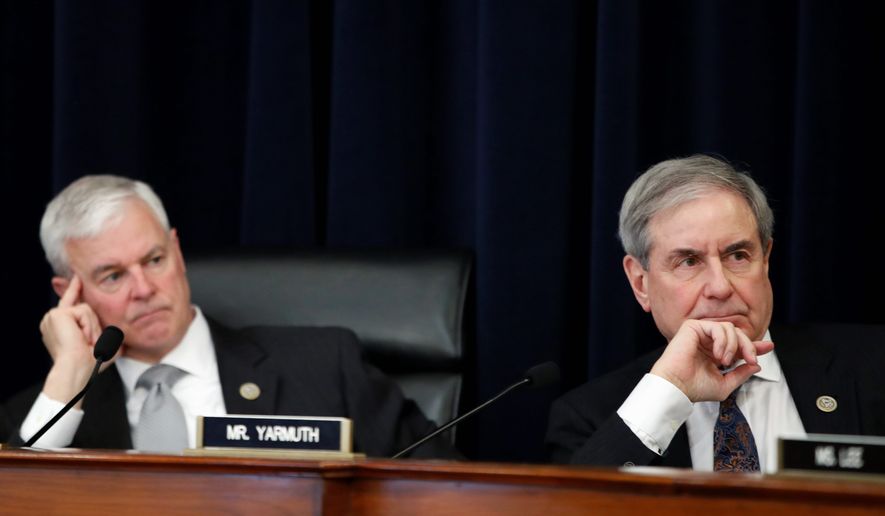 They're already six weeks behind the legal deadline and congressional budget writers are not much closer to getting a 2019 budget written, saying their colleagues are apathetic about the process.
House Budget Committee Chairman Steve Womack, Arkansas Republican, said he is still working on a 2019 budget resolution, but added that "we're not there yet."
"It's always my intent that the budget committee's going to produce a budget resolution, so we're hard at it," he said. "We're doing our due diligence with our members, so there'll be more to come on it later."
But interest is so low that when Mr. Womack held a hearing to get input from his colleagues, only a single lawmaker came to testify. The chairman called that a "sobering illustration."
Failing to approve a budget would be an embarrassment for the GOP, which routinely chided Democrats when they were in the majority for falling short on the goal.
Since gaining complete control of Congress in 2015, Republicans passed a budget that year, failed to pass one in 2016, and passed two budgets last year.
Rep. John Yarmuth, the top Democrat on the House Budget Committee, said it's not happening this year.
"There is no process. The Senate's not doing a budget," he said. "The Senate said they're not going to do one. Steve [Womack] doesn't yet know whether they're going to do one."
Sen. Mike Enzi, Wyoming Republican and chairman of the upper chamber's budget panel, said he is working on a plan, but said there's less urgency after a spending bill earlier this year set overall funding levels for 2019, undercutting at least part of the reason to pass a budget....
And, he said, with the time until the August vacation measured in single-digit weeks, and competing pressures for floor time from presidential nominations, the beginning of the spending process and perhaps even a renewed immigration debate, it's tough to see leaders dedicating space."It takes a week to do a budget on the floor, and we're a little short on time, especially with all the nominations that they're taking 30 hours apiece to get done," he said. "I can be ready any time the leadership says that we need to do one."With no annual budget likely, lawmakers say the real action on budget matters this year is a special select committee established by Congress earlier this year to come up with a full overhaul of the budget process, trying to reinvigorate something that used to dominate months of congressional action.The 1974 Congressional Budget Act says Congress is supposed to pass a budget blueprint by April 15 every year to give appropriators time to fill in the non-binding spending levels before the start of the fiscal year on Oct. 1.But Congress hasn't met that deadline in 15 years, and there's no real penalty for blowing beyond it.Where problems do arise is if the spending bills don't get done on time.After last year's cycle of