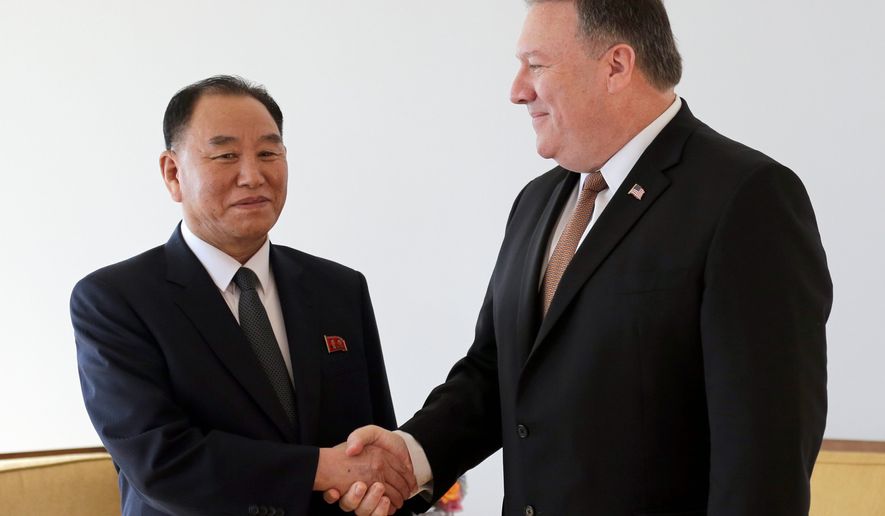 Top North Korean officials will hand-deliver a letter to President Trump[1] in Washington on Friday from their leader, Kim Jong-un, as Secretary of State Mike Pompeo[2] reported "real progress" toward resuming plans for a high-stakes denuclearization summit.
North Korean Vice Chairman Kim Yong-chol and a delegation from Pyongyang[3] were headed from New York City to meet with Mr. Trump[4] at the White House in what will be the first visit by officials from the isolated communist nation in 18 years.
They are bearing a letter that is likely a response to Mr. Trump[5]'s overture for Kim Jong-un to "call me or write" if Pyongyang[6] decides to tone down its hostile rhetoric toward the U.S., angry words that prompted the president to cancel the summit last week.
After Mr. Pompeo[7] wrapped up several hours of talks with the North Koreans in New York over two days, Mr. Trump[8] expressed hope that a meeting with Kim Jong-un still could take place on June 12 in Singapore[9] as the U.S. seeks to persuade Pyongyang[10] to give up all aspects of its nuclear weapons program.
"Hopefully, we'll have a meeting on the 12th," Mr. Trump[11] told reporters. "But I want it to be meaningful. It doesn't mean it gets all done at one meeting; maybe you have to have a second or a third. And maybe we'll have none."
Mr. Pompeo[12], the former CIA director, emerged from his third round of talks with Kim Yong-chol, a close adviser to Kim Jong-un with an extensive background in clandestine operations, sounding optimistic that the summit is back on track.
"It does no good if we are in a place where we don't think there is real opportunity to place them together," Mr. Pompeo[13] said of the two nations' leaders. "We have made real progress toward that in the last 72 hours."
He would not confirm that the summit is definitely on schedule for Singapore[14] on June 12 and couldn't say whether a decision would be made after Mr. Trump[15] reads the letter from Kim Jong-un.
Despite the upbeat messaging in the U.S., Kim Jong-un, in a meeting with Russia's foreign minister on Thursday, complained that the U.S. is trying to spread its influence in the region. The comment may complicate the summit plans....
"As we move to adjust to the political situation in the face of U.S. hegemonism, I am willing to exchange detailed and in-depth opinions with your leadership and hope to do so moving forward," Mr. Kim told Sergey Lavrov.China, North Korea's main trading partner and a key ally, said it supported and encouraged the "emerging good faith" between the U.S. and North Korea."At the same time as working