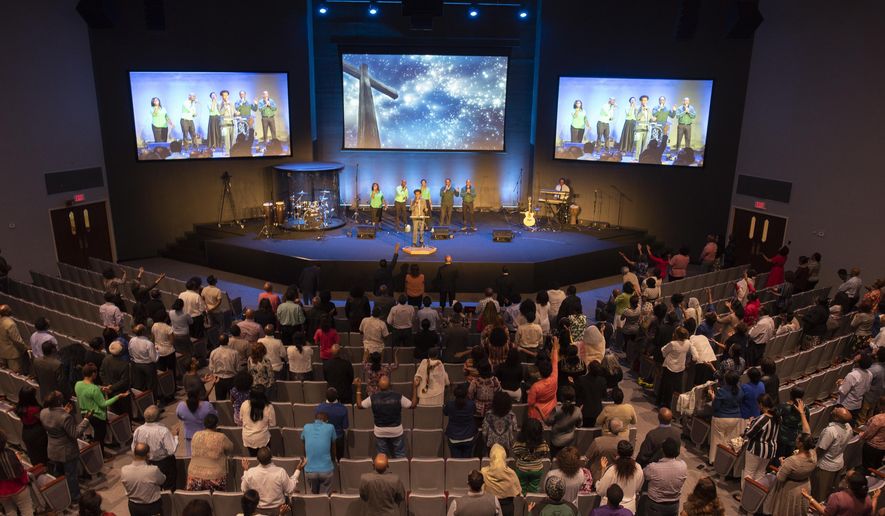 GARLAND, Texas (AP) - Anyone who arrives right on time for a service at Ethiopian Evangelical Baptist Church[1] at Dallas[2] will probably be greeted by a live band and several rows of empty seats.
But before long, more and more churchgoers arrive, joining along as congregants sing with the choir, raise their arms and yell out prayers, wiping tears from their eyes.
The Dallas Morning News reports over the course of the two-hour service - some weeks it stretches even longer - this distinctive house of worship fills nearly to its 1,200-seat capacity.
Ethiopian Evangelical Baptist has seen massive change in its three decades of existence, members say.
What began in 1983 with eight Ethiopians meeting in parks and homes and later in spaces lent by other North Texas churches to worship in their Amharic tongue has ballooned into a congregation of over 1,000 members.
Members in May gathered in Garland to sing, dance and pray at the grand opening of their new church home - a larger building that church officials say is expected to accommodate further growth.
"The Lord has led us to this place," said Kifle Admassu, board of elders chairman for the church[3]. "This has been a shelter for a lot of immigrants, a place of worship and a place where they feel that they belong."
Much of the congregation's surge in numbers has happened in the last 14 years, Admassu said. The church[4] had about 250 members when he joined in 2004. Since then, it has moved several times as membership has kept increasing.
Ethiopian Evangelical has also added two 250-member branches, which opened in Irving and Allen in 2004 and 2008, and a second weekend service in Amharic at the Garland location. The staff also created an English-language service last year for the expanding population of Ethiopian-Americans....
"Still, the
church
[5]
kept growing," Admassu said of the Garland site's attendance even after creation of the Irving and Allen branches. "And as the second generation starts to grow up and graduate college, they stay here."The
church
[6]
's growth is not unusual. According to the Pew Research Center, Ethiopian immigrants constitute the second-biggest African group living in the United States, after Nigerians. One factor in their large numbers is the Refugee Act of 1980, which made it easier for Ethiopians to flee drought and political conflict and resettle in the U.S.Much of the Ethiopian immigration rise has occurred since 2000. According to the U.S. Census Bureau, the Ethiopian population grew 41 percent, from about 174,000 to nearly 245,000, between 2010 and 2016.And the surge continues. The largest numbers are in California, Virginia, Maryland, Minnesota and Texas, according the Migration Policy Institute.From 2008 to 2012,
Dallas
[7]
-Fort Worth had the fifth-largest Ethiopian population in the nation, according to the most recent census numbers available.Many Ethiopians arrived as