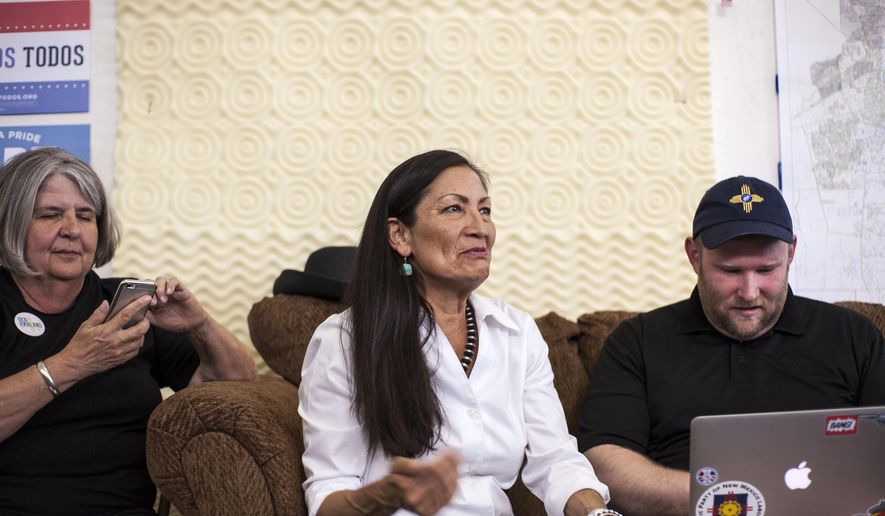 ALBUQUERQUE, N.M. (AP) - New Mexico voters selected nominees in two key congressional races that could help determine which party controls the U.S. House and make history in November's general election.
Former state Democratic Party leader Debra Haaland won the nomination Tuesday for the House district encompassing Albuquerque as she tries to become the first Native American congresswoman. Along the U.S.-Mexico border, a woman will represent the most Hispanic congressional district in the most Hispanic state in the nation for the first time.
State Rep. Yvette Herrell will try to keep the seat in southern New Mexico's 2nd Congressional District in Republican hands as she faces Democratic nominee and attorney Xochitl Torres Small in November. President Donald Trump was expected to be an issue in the competitive race.
Herrell campaigned as a strong ally of Trump and a staunch supporter of his signature effort to build a wall along the border.
"I strongly support the president, and I think he's doing a marvelous job," she told The Associated Press after winning the GOP nomination Tuesday.
Torres Small, granddaughter of Mexican immigrants and wife of a state lawmaker, rarely mentioned Trump on the campaign trail. She tells voters she's a gun owner who postponed her honeymoon to go hunting.
But she said Washington does not get "our way of life here in southern New Mexico" and promised to campaign in Hispanic areas where voters rarely go to the polls.
"Too many politicians forget who they're fighting for, and when they get to Washington, and they don't represent our values," Torres Small said Tuesday.
The two congressional races are some of many expected to draw national attention because they may help determine the majority party in the U.S. House of Representatives....
Both congressional seats are open because Democratic U.S. Rep. Michelle Lujan Grisham and Republican U.S. Rep. Steve Pearce are stepping down to run for governor.Haaland, a tribal member of the Laguna Pueblo who beat out a crowded field for the Democratic nomination in the 1st Congressional District, will face former Republican state lawmaker Janice Arnold-Jones and Libertarian candidate Lloyd Princeton in the general election.In the Senate primaries, incumbent Democratic U.S. Sen. Martin Heinrich and GOP challenger Mick Rich, who both ran unopposed, moved on to the general election.The November race between Herrell and Torres Small was expected to garner national attention amid debates over immigration, oil production and water issues.For years, Democrats have tried to capture the seat in the heavily Hispanic district where they outnumber registered Republicans. It briefly flipped in 2008 during Obama's election.But it has remained in GOP hands largely due to Pearce's popularity. During his tenure, Pearce garnered support from Hispanics and the region's oil and gas interests.The district's conservative-leaning independents have complex views on water, immigration, international trade and oil production. That makes any election outcome difficult to predict in this region of oil wells and rural mountain communities.___Follow Contreras on Twitter at http://twitter.com/russcontreras