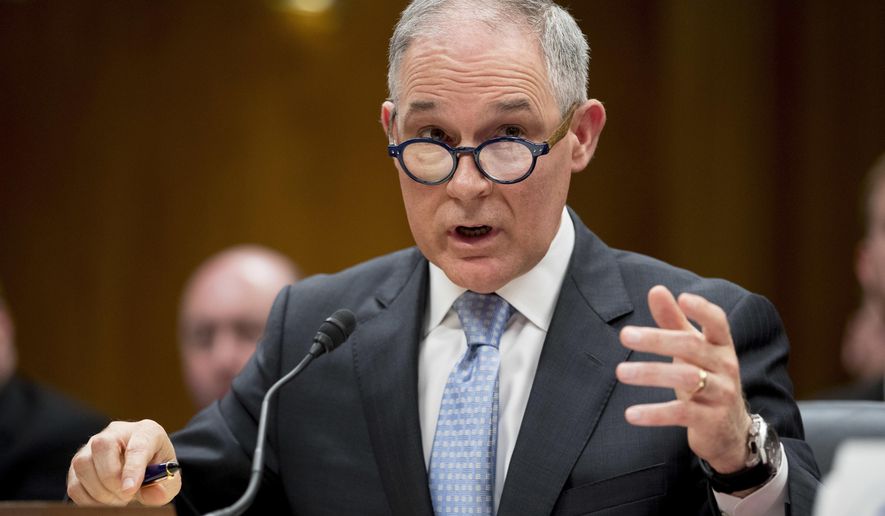 WASHINGTON (AP) - Environmental Protection Agency[1] chief Scott Pruitt[2] laughed off questions Wednesday about whether he used his office to try to help his wife get a "business opportunity" with Chick-fil-A[3], while a close aide abruptly resigned amid new ethics allegations against her boss.
Pruitt[4] said in a statement that his scheduler, Millan Hupp, had resigned. It came two days after Democratic lawmakers made public her testimony to a House oversight panel that Pruitt[5] had her do personal errands for him, including inquiring about buying a used mattress from the Trump International Hotel[6].
Despite the mounting scandals, President Donald Trump continues to stand by Pruitt[7] and lavished praise on him at a hurricane-preparedness briefing attended by Cabinet secretaries and agency heads.
"EPA[8] is doing really, really well," Trump told Pruitt[9] on Wednesday. "And you know, somebody has to say that about you a little bit. You know that, Scott[10]. But you have done - I tell you, the EPA[11] is doing so well. … And people are really impressed with the job that's being done at the EPA[12]. Thank you very much, Scott[13]."
Pruitt[14] is the subject of numerous ongoing federal ethics investigations over his lavish spending on travel and security, his dealings with subordinates and other matters.
The 26-year-old Hupp, described by former staffers as one of Pruitt[15]'s closest and most loyal staffers, told the House panel that Pruitt[16] had her ask about getting a mattress from the Trump International Hotel[17].
Pruitt[18] also directed Hupp, an Oklahoman like her boss, to book a personal trip to the Rose Bowl for him and search for housing for him in the Washington area, she told the investigators.
Federal ethics codes prohibit having staffers conduct personal errands and bar officials from using their position for private gain.
Pruitt[19]'s statement called Hupp "a valued member of the EPA[20] team." The EPA[21] gave no reason for her departure....
Pruitt
[22]
, in appearances before congressional panels this spring, has repeatedly blamed subordinates for his alleged ethical lapses. Three other senior
Pruitt
[23]
staffers resigned earlier this spring.Earlier Wednesday,
Pruitt
[24]
laughed when asked about new reports that he used his position as an agency head to try to get a
Chick-fil-A
[25]
franchise for his wife."I mean, look, my wife is an entrepreneur herself. I love, she loves, we love
Chick-fil-A
[26]
as a franchise of faith," he told a reporter for
Nexstar Media Group
[27]
, which owns local television stations around the country. He said more are needed in his hometown of Tulsa,