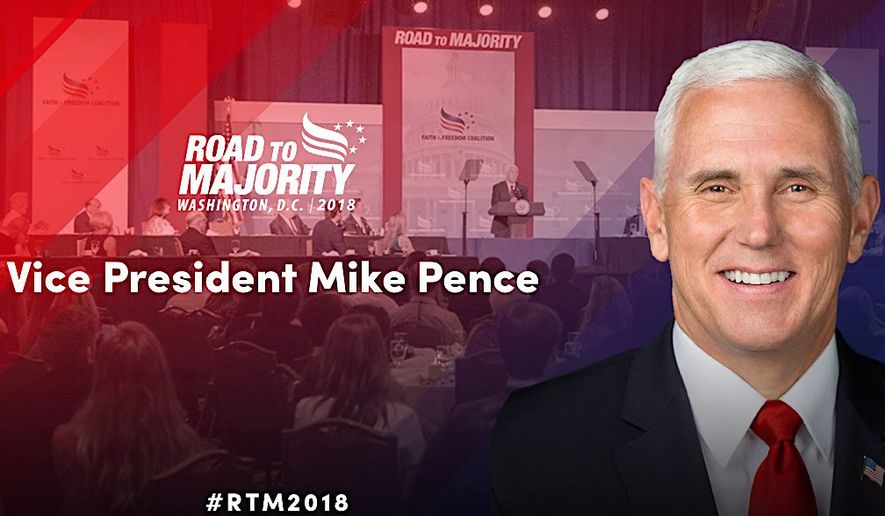 Thursday marks the beginning of a pivotal 72 hours in the nation's capital for the Faith & Freedom Coalition, the 1.8 million-member grass-roots nonprofit that will stage its annual "Road to Majority" gathering. The three-day event features a startling number of lawmakers and power players, including coalition chairman Ralph Reed and Vice President Mike Pence — the keynote speaker for a Saturday night "Patriot's Gala" at a historic hotel north of the White House.
The organization will make a joyful noise, and talk serious policy, strategy and outreach. There are names, many names.
The big doings get under way at high noon Thursday with a convivial legislative luncheon with House Speaker Paul D. Ryan and Republicans Sens. Ted Cruz and Marco Rubio. A Capitol Hill town-hall meeting follows with Sens. Chuck Grassley, Orrin Hatch and John Cornyn plus Republican Reps. Ann Wagner, Doug Collins, Cathy McMorris Rodgers and Mark Walker.
But wait there's more. Much more. Friday showcases another parade of stars, including Senate Majority Leader Mitch McConnell, Sen. David Perdue, House Majority Whip Steve Scalise, Reps. Kevin McCarthy, Marsha Blackburn, Kevin Brady and Karen Handel.
Also appearing: EPA Administrator Scott Pruitt, Transportation Secretary Elaine Chao, Housing and Urban Development Secretary Ben Carson, White House adviser Kellyanne Conway, Israeli Ambassador to the U.S. Ron Dermer, broadcast hosts Rabbi Daniel Lapin and Michael Medved, and Americans for Tax Reform President Grover Norquist.
An evening session continues at the Museum of the Bible, some three blocks from the Capitol. Then there's Saturday, which has a particularly muscular schedule that includes appearances by author-filmmaker Dinesh D'Souza, activist Joy Villa and Rep. Louie Gohmert.
"We believe that the greatness of America lies not in the federal government but in the character of our people — the simple virtues of faith, hard work, marriage, family, personal responsibility, and helping the least among us. If we lose sight of these values, America will cease to be great. Never before has it been more critical for us to speak out for these values," the Georgia-based coalition notes in a mission statement.
MEDIA OVERLOOKS 'THE BOND'
President Trump has dismissed the idea that a Democratic blue wave will dominate the midterm elections. Meanwhile, a few senior Democratic lawmakers and blue-minded strategists now caution their party not to build campaigns around anti-Trump rhetoric alone. But the media? They still remain infatuated with negative coverage of Mr. Trump and his administration, and do not seem aware that Republican Party grows more robust by the day....
"There is lots of Republican enthusiasm. The Republicans are not staying home. This