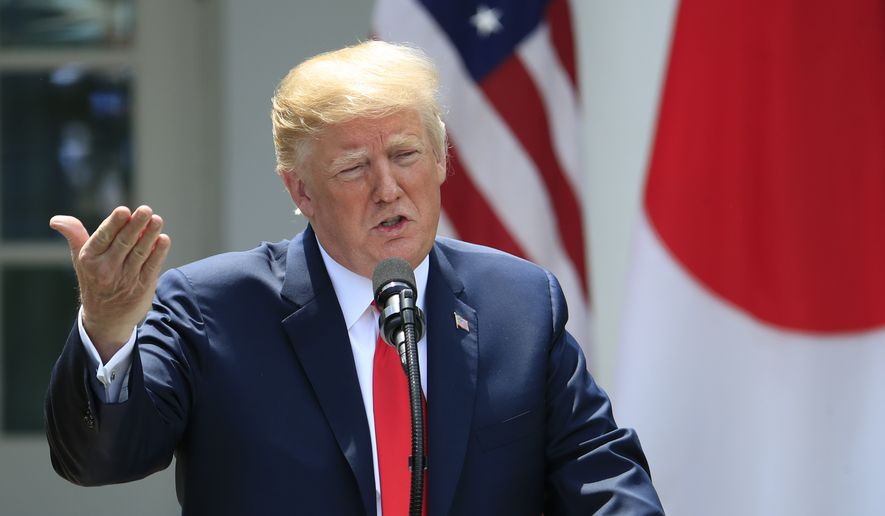 President Trump said Thursday that his best asset will be "attitude" when he sits down with North Korean leader Kim Jong-un at the Singapore summit next week to negotiate the end of Pyongyang's nuclear weapons program.
Days away from the historic meeting, Mr. Trump said that after months of briefings, he has studied the issue as much as he can.
"I don't think I have to prepare very much," Mr. Trump told reporters. "It's about the attitude. It's about willingness to get things done. But I think I've been preparing for the summit for a long time."
He expressed optimism that Mr. Kim wants to make a denuclearization deal in the talks, which begin Tuesday.
"I really believe that Kim Jong-un wants to do something. I think he wants to see something incredible happen for the people of North Korea," the president said at a joint press conference with Japanese Prime Minister Shinzo Abe.
Mr. Trump wants to forge a relationship with Mr. Kim in Singapore that will be the foundation of a historic deal that dismantles Pyongyang's nuclear weapons and brings the secluded communist regime into the community of free nations.
The president conferred Thursday at the White House with Mr. Abe, a key partner in Mr. Trump's efforts to force the communist nation to abandon its nuclear weapons program and its missiles, which also threaten Japan. Mr. Abe said he received assurances from Mr. Trump that he will press Mr. Kim for progress on the issue of North Korea's abduction of Japanese citizens.
As he prepares to leave Washington Friday for a Group of Seven summit in Canada before traveling to Singapore, the president was upbeat about the prospects for eventually striking a denuclearization deal with North Korea. He said he envisions "a terrific success or a modified success," but he stressed that he is ready to walk away from the talks at any point.
"I'm totally prepared to walk away — I did it once before," he said, referring to his cancellation of the summit two weeks ago in the face of hostile North Korean rhetoric....
He said the world will know whether his showdown with Mr. Kim has failed if he emerges from the summit uttering the words "maximum pressure," a signal for tougher U.S. sanctions against Pyongyang."If you hear me saying we're going to use maximum pressure, you'll know the negotiation did not do well, frankly," Mr. Trump said. He has stopped using the phrase in recent weeks as negotiations progress toward the summit.The meeting with Mr. Abe was part of the groundwork. The Japanese are Americans' closest allies in the region and have their own security at stake in a North Korea deal.Mr. Abe said he asked Mr. Trump to raise Japanese concerns, such as addressing Pyongyang's short-range missiles that threaten the island nation and North Korea's abduction of Japanese citizens over several decades."A major step forward is about to be taken," Mr.