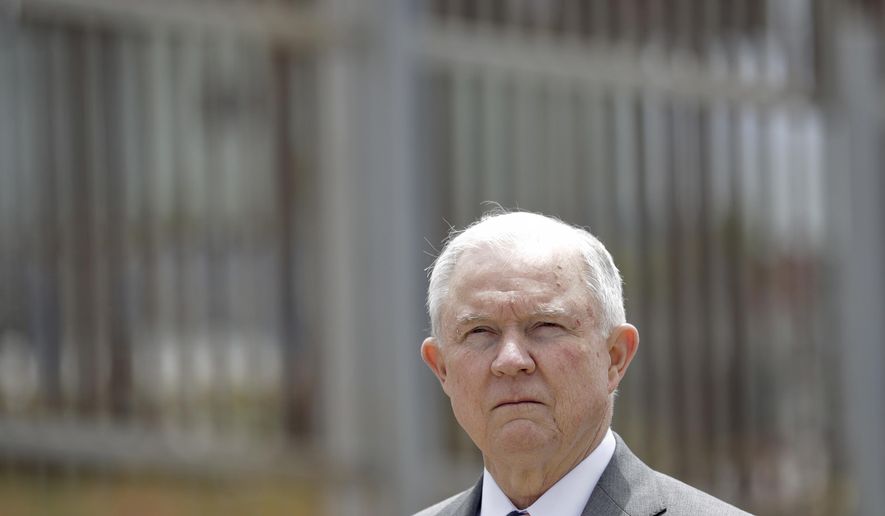 SEATTLE (AP) - More than 1,600 people arrested at the U.S.-Mexico border, including parents who have been separated from their children, are being transferred to federal prisons, U.S. immigration authorities confirmed Thursday. They said they're running out of room at their own facilities amid President Donald Trump's crackdown on illegal immigration.
The move drew condemnation from activists who said the detainees may have legitimate claims to asylum and don't deserve to be held in federal prisons.
Washington Gov. Jay Inslee and Attorney General Bob Ferguson[1] issued a letter Thursday night seeking more information from the Justice Department and U.S. Immigration and Customs Enforcement after learning that ICE had transferred dozens of mothers who had been separated from their children to the Federal Detention Center at SeaTac.
"The Trump Administration's new family separation policy is inflicting intentional, gratuitous, and permanent trauma on young children who have done nothing wrong and on parents who often have valid claims for refugee or asylum status," they wrote.
Historically, immigrants without serious criminal records were released from custody while they pursued asylum or refugee status. The Trump administration has ended that policy.
In an emailed statement, ICE spokeswoman Carissa Cutrell said that due to a surge in illegal border crossings and the Justice Department's "zero-tolerance" policy - designed to discourage illegal border crossings - the agency needed to acquire access to more than 1,600 beds in Bureau of Prisons Facilities. The agency said those include 1,000 beds in Victorville, California; 209 beds in SeaTac; 230 beds in La Tuna, Texas; 230 beds in Sheridan, Oregon; and 102 beds in Phoenix.
"The use of BOP facilities is intended to be a temporary measure until ICE can obtain additional long-term contracts for new detention facilities or until the surge in illegal border crossings subsides," the statement said.
The letter from Inslee and Ferguson[2] followed a report from the Northwest Immigrant Rights Project earlier Thursday that as many as 120 asylum seekers had been transferred to the Federal Detention Center at SeaTac.
The organization said that on Wednesday it spoke with two of the women, who arrived at the southern border with their young daughters in mid-May seeking asylum. Both were separated from their children shortly after they were apprehended by Border Patrol. Instead of being returned to their children after being sentenced to time served for the misdemeanor of unlawful entry, they were transferred to Washington state while they seek asylum, the organization said....
"There is simply no moral or legal justification for separating children from their parents in this draconian effort seeking to deter other immigrants," Matt Adams, legal director of the Northwest Immigrant Rights Project, said in a written statement. "This is not only unlawful, but also contrary to basic human decency."Inslee and
Ferguson
[3]
said they wanted more information about when the women would be released and when they can expect to see their children