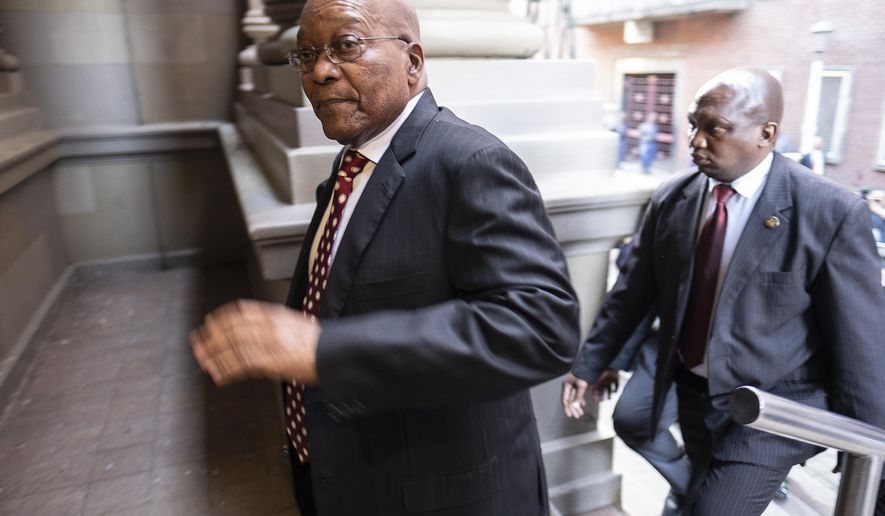 DURBAN, South Africa (AP) - The corruption case against former South African president Jacob Zuma[1] was delayed until late next month, while Zuma[2] took to a stage near the courthouse on Friday before thousands of cheering supporters and again declared his innocence.
"A person is not guilty until the court says so," said Zuma[3], who has described the 16 counts of fraud, racketeering and money laundering linked to an arms deal in the 1990s as politically motivated. He had been deputy president at the time.
Without providing details, Zuma[4] said people who criticize him should not "provoke" him because he would reveal allegedly incriminating information about them.
The 76-year-old, who cheerfully danced for the crowd, had resigned in February on the orders of the ruling African Nation Congress party after growing public outcry over his scandal-marked tenure.
The corruption charges were reinstated this year after being thrown out a decade ago.
Judge Mjabuliseni Madondo said the case in the KwaZulu-Natal High Court will be moved from Durban to Pietermaritzburg, which has bigger facilities, for July 27.
Prosecutor Billy Downer said the state was prepared to go to trial but that the defense team had to "get its house in order."
Downer has suggested that Zuma[5]'s trial start on Nov. 12.
The former president's lawyer, Michael Hulley, said he hopes that questions about funding for the defense will be resolved ahead of July 27 and that he had written to the office of President Cyril Ramaphosa about the matter.
Zuma
[6]
believes the state should pay his legal fees, though opposition parties have argued in court that taxpayers should not foot the bill.Ramaphosa, who was deputy president under
Zuma
[7]
, has promised a strong campaign against corruption and seeks to rebuild a ruling party whose moral stature has diminished since taking power at the end of apartheid in 1994.___Follow Africa news at https://twitter.com/AP_Africa
Copyright © 2018 The Washington Times, LLC. ...
The Washington Times Comment Policy
The Washington Times welcomes your comments on Spot.im, our third-party provider. Please read our Comment Policy
[8]
before commenting.References
^
Jacob Zuma
(www.washingtontimes.com)
^
Zuma
(www.washingtontimes.com)
^
Zuma
(www.washingtontimes.com)
^
Zuma
(www.washingtontimes.com)
^
Zuma
(www.washingtontimes.com)
^
Zuma
(www.washingtontimes.com)
^
Zuma
(www.washingtontimes.com)
^
Comment Policy
(www.washingtontimes.com)