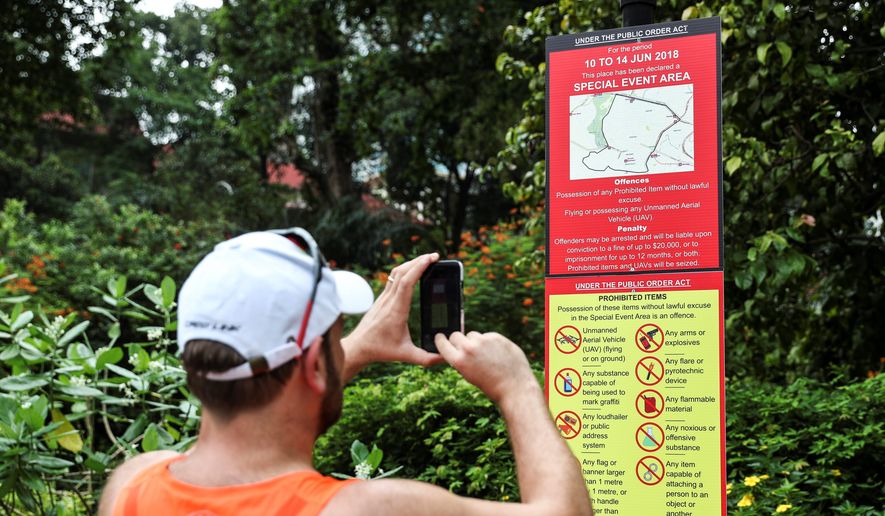 SINGAPORE | Immigration laws in this island city-state in Southeast Asia make President Trump look like a lightweight.
Caning, a corporal punishment in which an offenders' naked rear end is struck repeatedly with a rattan cane, is the mandatory sentence for visa overstays and other immigration crimes in Singapore.
Although criticized in the U.S., the use of caning for a variety of crimes is accepted in this wealthy tropical island that is a hub of finance and commerce. It is also part of the law-and-order ethos that helped make Singapore an ideal location for the historic meeting of Mr. Trump and North Korean leader Kim Jong-un.
Anyone wanting to do harm or disrupt the summit first must get through tight border security to set foot on to the island. They then would face a high concentration of police closed-circuit cameras that make Singapore one of the world's most advanced surveillance states.
The city restricts public demonstrations to Speakers' Corner in Hong Lim Park, about four miles from the summit.
Singapore also had intense security measures, including heavily armed elite forces, ready to deploy when Mr. Trump and Mr. Kim came to town.
"Singapore has one of the lowest police officer to residents ratio in the world and crime is relatively low. Police presence is often inconspicuous," said Eugene Tan, a law professor at Singapore Management University.
However, Mr. Tan said the widespread surveillance and tough laws primed residents for the heavy security around the summit.
"Singaporeans have come to accept the strict laws and the zero-tolerance approach in law and order matters," he said. "These strict laws enjoy a high degree of legitimacy as they have not been abused, even if the curbs on personal autonomy is sometimes chafed at."...
The zero-tolerance policies include mandatory caning for certain vandalism crimes and arrests for jaywalking, littering or spitting.The penalty for some drug crimes include caning and the death penalty.For the summit, the police were on high alert and carefully corralling the throngs of news media.More than 2,500 journalists registered to cover the summit, according to city officials.Singapore created a security zone in the city center, where Mr. Trump and Mr. Kim are staying at separate hotels, and surrounding the summit site at Capella Hotel on Sentosa Island, a resort destination off Singapore's southern coast.The Capella Hotel and its 30 acres of lush tropical landscapes were completely locked down.Barricades and checkpoints were erected on the streets around the Shangri-La Hotel, where Mr. Trump is staying, and the St. Regis Hotel, where Mr. Kim is staying.At the Shangri-La, large signs on the road warned approaching motorists to "Comply With Police Orders" and "Vehicles Will Be Checked."At the St. Regis, dozens of Singapore police swept through the building shortly before Mr. Kim arrived.Guests entering the building had to go through metal detectors and put luggage through an X-ray machine at the entrance.Police at a nearby vehicle checkpoint were armed with submachine guns