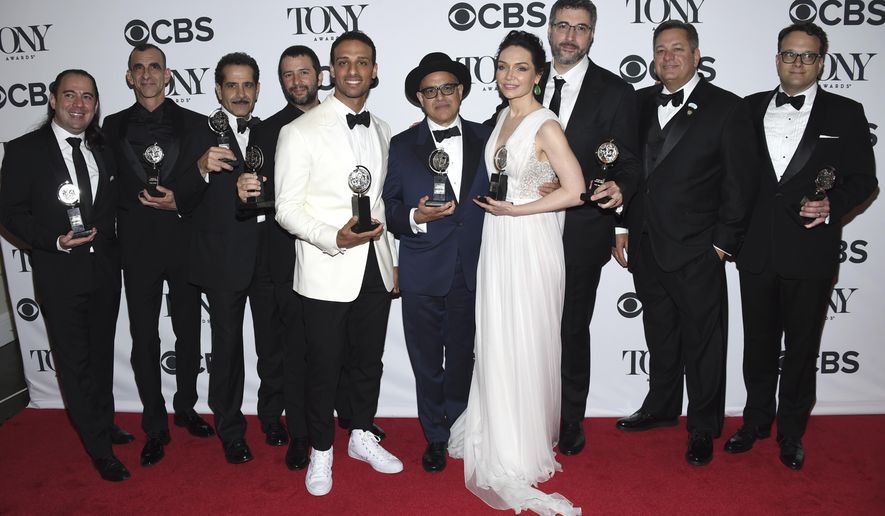 NEW YORK (AP) - A small-scale, intimate musical about hard-won cultural understanding was an altogether apt Tony[1] winner on a night where tolerance and inclusion were constant themes.
"The Band's Visit," about an Egyptian police band that gets stranded in a remote Israeli desert town, forcing both sides to get to know each other, triumphed over much flashier shows to win best musical Sunday night - and a total of 10 awards. The closest runner-up, with six, was the blockbuster London import "Harry Potter and the Cursed Child," which won best play.
One by one, the winners of "The Band's Visit" referenced the show's themes of acceptance and finding a common humanity. Tony[2] Shalhoub, named best actor in a musical, spoke of his father's arrival at Ellis Island from Lebanon in 1920. "May we, their descendants, never lose sight of what they taught us," he said. Ari'el Stachel, who won for best featured actor, praised the show for "telling a small story about Arabs and Israelis getting along, at a time that we need that more than ever." Addressing his parents in the audience, Stachel, whose father was born in Israel, confessed that "for so many years of my life I pretended I was not a Middle Eastern person."
The show also won awards for its luminous lead actress, Katrina Lenk, and its director, book and score, among others. Producer Orin Wolf said the message was one of unity, in a world that "more and more seems bent on amplifying our differences." Composer David Yazbek, speaking later at the Tony[3] after-party, said the show had special resonance amid "the climate of divisiveness that we're seeing." The show isn't just about Jews and Arabs, he said; "It's about any tribes that have figured out reasons to be at odds with each other."
The Middle East conflict, immigration, LGBT equality, gun control - many social issues came up, explicitly or implicitly, during the ceremony, which was hosted with a light (and musical) touch by Sara Bareilles and Josh Groban. The night's first big winner, Andrew Garfield, best actor in a play for "Angels in America," earned hearty cheers when he declared, "Let's just bake a cake for everyone who wants a cake to be baked." He was referring to last week's Supreme Court decision in favor of a Colorado baker who refused to bake a wedding cake for a same-sex couple because of religious objections.
Garfield dedicated the award, his first Tony[4], to the LGBTQ community, for a "spirit that says no to oppression. It is a spirit that says no to bigotry, no to shame, no to exclusion. It is a spirit that says we are all made perfectly."
Lindsay Mendez of "Carousel," named best featured actress in a musical, tearfully recalled that early in her career, "I was told to change my last name from 'Mendez' to 'Matthews,' or I...