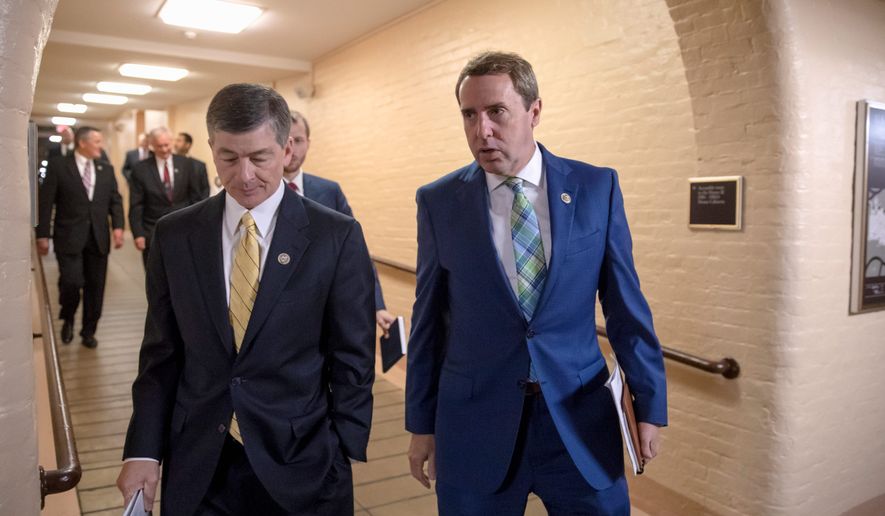 Moderate House Republicans were about to blow their own self-imposed deadline Tuesday for reaching a deal with conservatives on an immigration compromise, with unresolved questions lingering over how much new border security and interior enforcement will be added to a broad amnesty for "Dreamers."
An evening meeting failed to produce a breakthrough, and both sides were retreating to talk among themselves.
At stake is whether the House will debate a bill that Republicans can unify behind, or whether it will instead gravitate toward a Democrat-backed alternative that skimps on enforcement in favor of a more generous amnesty.
"We don't have a deal at this point. We're at the midnight hour," said Rep. Mark Walker, one of the conservative leaders, as he emerged from 90 minutes of negotiations in House Speaker Paul D. Ryan's office.
For moderates, Tuesday marked a key date.
They'd set a self-imposed deadline, saying if no deal was done then more of them would back a petition drive — led by rebel Republicans and joined by Democrats — that would force the Democrat-backed bill onto the floor.
The petition drive, known officially as a "discharge petition" because it discharges a bill from committee and pushes it straight to the floor, has been stuck on 215 signatures since June 6. It needs 218 to be successful.
Rep. Carlos Curbelo, a leader of the moderate group, said they were still trying to figure out Tuesday if more people would sign on or if they will stay in the negotiations with conservatives.
"We're making those decisions," the Florida Republican said — though he added it will be up to each member individually....
While much of the House is focused on those procedural questions, the fate of millions of immigrants who crossed the border illegally hangs in the balance.Both sides seem to agree on granting some form of more permanent legal status to Dreamers, the young adult immigrants who illegally came to the U.S. as children, and who are seen as the most sympathetic figures in the immigration debate.But whether that includes full citizenship rights, whether they will be able to then sponsor their parents who broke the law to bring them to the U.S., and what additional immigration restrictions will be added on are all in negotiations.GOP leaders have begged moderates not to sign onto the petition drive, saying it would effectively grant control of the floor to Democrats.They pleaded for all sides to stay in the ongoing talks."We still don't have an agreement, but you have seen members from a lot of different sides of this issue come together in a real committed way to try to find an agreement," said Majority Whip Steve Scalise. "We are going to keep working at it."Under the rules governing discharge petitions, which are both precise and arcane, the moderates needed to cross the 218 mark by Tuesday if they wanted to force a vote this month.Otherwise, their next chance would come