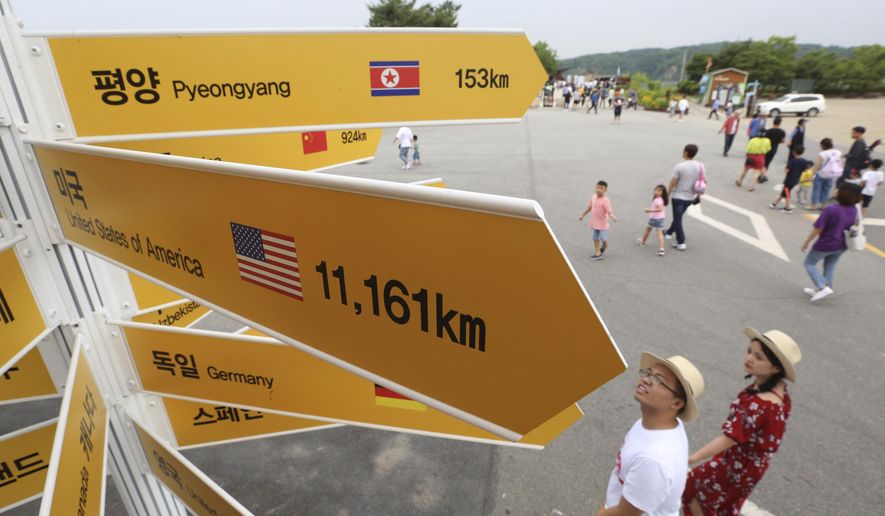 SINGAPORE (AP) - When South Korea[1]'s president shuttled between North Korea[2] and the United States to broker their first-ever summit, he faced both praise and criticism over whether he was a peace-making mediator or was helping North Korea[3] find ways to weaken U.S.-led economic sanctions.
A day after President Donald Trump[4] and North Korean leader Kim Jong Un held their summit in Singapore, is it clearer whether Moon Jae[5]-in played a positive or negative role? A quick answer: Probably not.
Assessments of Moon[6]'s diplomacy have become more divisive and complex, with Trump[7] criticized in both South Korea[8] and the U.S. for the concessions he made to North Korea[9], while others believe the summit will successfully prolong the current mood of detente.
Meeting for about five hours, Trump[10] and Kim[11] exchanged an historic handshake, took a short stroll together, patted each other's backs and signed a summit agreement. Trump[12] promised to provide security guarantees to the North and suspend joint military drills with the South as long as negotiations with the North continue in "good faith." Kim[13], in return, agreed to work toward a vague "complete denuclearization of the Korean Peninsula."
Those moves were unthinkable even several months ago, when the two unpredictable leaders threatened to nuke each other and traded a series of harsh personal insults.
Moon[14] issued a statement after the summit calling it a "huge step forward" toward peace that "helped break down the last remaining Cold War legacy on Earth."
He acknowledged that many difficulties are likely to lie ahead but vowed to work together with the U.S., North Korea[15] and others to bring lasting peace to the Korean Peninsula.
"We will never go back to the past again and never give up on this bold journey. History is a record of people who take action and rise to a challenge," he said.
But conservatives in South Korea[16] slammed the summit, saying it failed to curb North Korea[17]'s nuclear ambitions. They said both Trump[18] and Moon[19] should be blamed for not specifying steps and deadlines for North Korea[20]'s nuclear disarmament, allowing it time to perfect its weapons program....
"High expectations were met by low results," said Nam Sung-wook, a
North Korea
[21]
expert at Seoul's Korea University. "
Moon
[22]
, and then
Trump
[23]
, were quick to bite on
North Korea
[24]
's invitation for talks. When
Trump
[25]
realized there wasn't going to be anything substantial in return, it was impossible for him to back out because he had already gone too far."U.S. officials had worked hard to