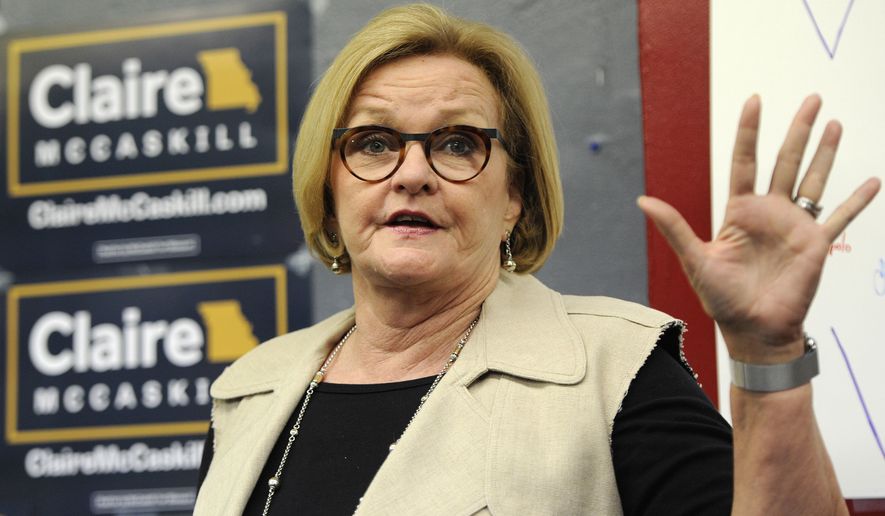 JEFFERSON CITY, Mo. — President Donald Trump slammed Democratic U.S. Sen. Claire McCaskill as "phony" in a tweet on Wednesday after she used a private plane during part of a recent RV road trip through Missouri to visit veterans.
Trump and Republicans piled on McCaskill for taking some flights on her husband's company's propeller plane during the three-day tour. Trump on Wednesday tweeted "people are really upset, so phony!"
McCaskill is in a tough re-election race in state that voted overwhelmingly for Trump in 2016. She faces a potential showdown with the state's Republican Attorney General Josh Hawley, who has been endorsed by Trump.
McCaskill spokeswoman Meira Bernstein said in a statement that the incumbent spent two days in the RV during the three-day, late May tour and "only flew to where she stayed overnight and to allow for an additional stop that otherwise would not have been possible." Bernstein said no campaign or taxpayer dollars were used.
"Paying on my own dime to visit more Missouri veterans is not something I'm going to apologize for," she said in a statement Wednesday after the Trump tweet.
The tour featured #Big Blue, a dark blue recreational vehicle with "Claire McCaskill" emblazoned on the side and a map of Missouri in yellow. Her campaign promoted the tour with several photos of the RV, some with McCaskill standing in front of #Big Blue.
Hawley in a Tuesday tweet challenged McCaskill to give up use of the private plane for the rest of the campaign and "live like the rest of us."
His campaign manager, Kyle Plotkin, on Wednesday said use of the plane was hypocritical of McCaskill.
The Missouri race is expected to be one of the most contentious in the nation and could determine party control of the U.S. Senate.
Copyright © 2018 The Washington Times, LLC. ...
The Washington Times Comment Policy
The Washington Times welcomes your comments on Spot.im, our third-party provider. Please read our Comment Policy
[1]
before commenting.References
^
Comment Policy
(www.washingtontimes.com)