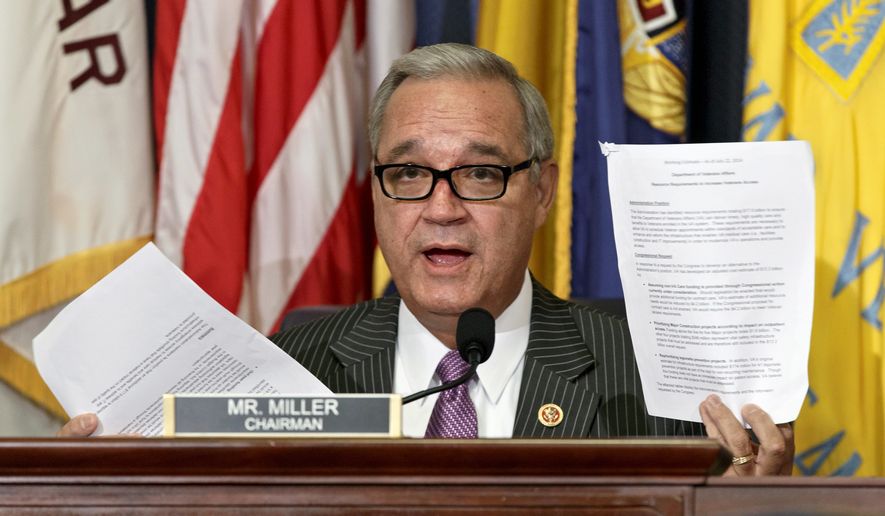 President Trump is considering former House Veterans Affairs Committee Chairman Jeff Miller, a Florida Republican who was often critical of the Department of Veterans Affairs, as he searches for his next nominee to lead the embattled agency.
Mr. Miller met Wednesday with White House officials about the job, a senior administration official said. He's one of several candidates for the post after Rear Adm. Ronny Jackson, the president's former White House physician, withdrew his name from consideration amid allegations of misconduct.
As head of the House committee until his retirement in 2017, Mr. Miller was an outspoken critic of the VA's chronic delays in providing health care for veterans, its failure to punish hospital bureaucrats and other VA employees for wrongdoing, and a culture of retaliation against agency whistle-blowers. He also was an informal adviser to Mr. Trump on veterans' issues during the 2016 campaign.
An administration official said the president has yet to interview Mr. Miller about the job, and that a decision isn't expected this week. A spokeswoman at the Washington law firm of McDermott Will & Emery, where Mr. Miller works as a lobbyist, had no comment about the VA post.
Among others said to be under consideration for the Cabinet post are acting VA Secretary Robert Wilkie, who came over from the Pentagon after the president fired Secretary David Shulkin in late March; Anthony Tersigni, president and CEO of hospital giant Ascension; and Rep. Ron DeSantis, Florida Republican. It's not clear whether Pete Hegseth, an Iraq War veteran and former official at the Concerned Veterans for America, is in the running after Mr. Trump reportedly considered him for the post prior to Mr. Shulkin's firing.
With Republicans holding a slim majority in the Senate, Mr. Trump also is seeking a nominee who can gain Democratic support in a confirmation vote. The Wall Street Journal reported this week that the president is also considering White House Chief of Staff John F. Kelly, a retired four-star Marine general who previously led the Department of Homeland Security.
The deliberations come as administration officials met Wednesday at the White House with members of six leading veterans groups, a routine gathering that one source said did not include discussions about a new VA nominee. The meeting included VA officials and was "amicable," according to Lou Celli, national director of veteran affairs and rehabilitation for The American Legion.
White House press secretary Sarah Huckabee Sanders said Tuesday that Mr. Trump will meet with "a number of individuals over the next couple of weeks" to choose a replacement for Dr. Jackson. Some observers believe there's less urgency because Mr. Trump is pleased with Mr. Wilkie's interim leadership at the VA.
The president praised Mr. Wilkie at a Wounded Warriors bike ride event at the White House last week, saying he "is doing a great job over at the VA." Noting that it had been four years since a scandal at the Phoenix VA...