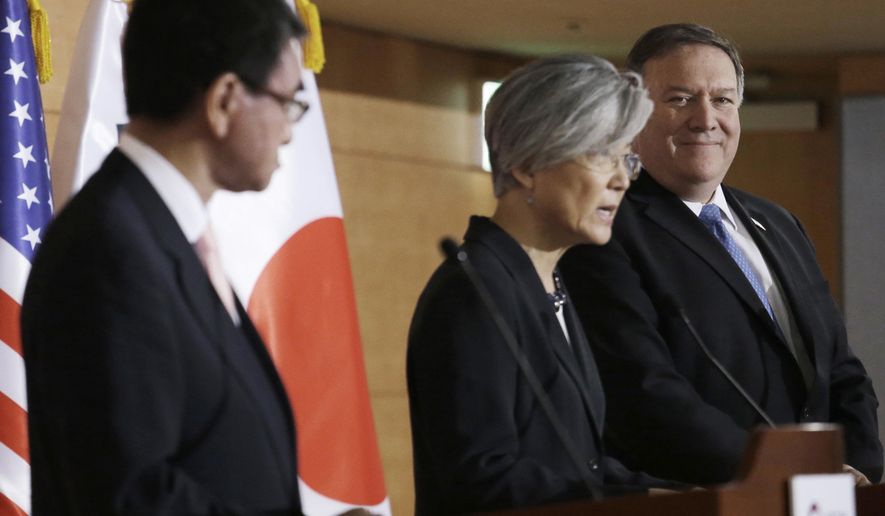 SEOUL, South Korea (AP) - The United States and its Asian allies worked Thursday to paper over any semblance of disagreement over President Donald Trump[1]'s concession to Kim Jong Un that the U.S. would halt military exercises with South Korea, with Trump[2]'s top diplomat insisting the president hadn't backed down from his firm line on North Korea[3]'s nukes.
U.S. Secretary of State Mike Pompeo[4], meeting with top South Korean and Japanese diplomats, put a more sober spin on several moves by Trump[5] after his summit with Kim[6] that had fueled unease from Washington[7] to Tokyo[8] and Seoul[9]. He said Trump[10]'s curious claim that the North's nuclear threat was over was issued with "eyes wide open," and brushed off a North Korean state-run media report suggesting Trump[11] would grant concessions even before Pyongyang fully rids itself of nuclear weapons.
"We're going to get denuclearization," Pompeo[12] said in the South Korean capital[13]. "Only then will there be relief from the sanctions."
On the joint U.S.-South Korea drills that Trump[14] - after meeting Kim[15] - said would be terminated, Pompeo[16] added a key caveat that the president had failed to mention: If the mercurial North Korean leader stops negotiating in good faith, the "war games" will be back on.
The words of reassurance from Pompeo[17] came as diplomacy took place in the uncertain aftermath of the summit Tuesday in Singapore, the first between a sitting American president and North Korea[18]'s leader in six decades of hostility. In the village of Panmunjom along the North-South border, the rival Koreas on Thursday held the first high-level military talks since 2007, focused on reducing tensions across their heavily fortified border.
Yet even as U.S. and South Korean officials sought to parlay the momentum from the dramatic summit into more progress on the nuclear issue, there were persistent questions about whether Trump[19] had given away too much in return for too little.
Trump[20]'s announcement minutes after the summit's conclusion that he would halt the "provocative" joint military drills were a shock to South Korea and caught much of the U.S. military off guard, too. Pyongyang has long sought an end to the exercises it considers rehearsals for an invasion, but U.S. treaty allies Japan and South Korea view them as critical elements of their own national security.
So Pompeo[21] had some explaining to do as he traveled to Seoul[22] to brief the allies on what transpired in Singapore.
In public, at least, South Korea's leader cast the summit's outcome as positive during a short meeting with Pompeo[23] at the...