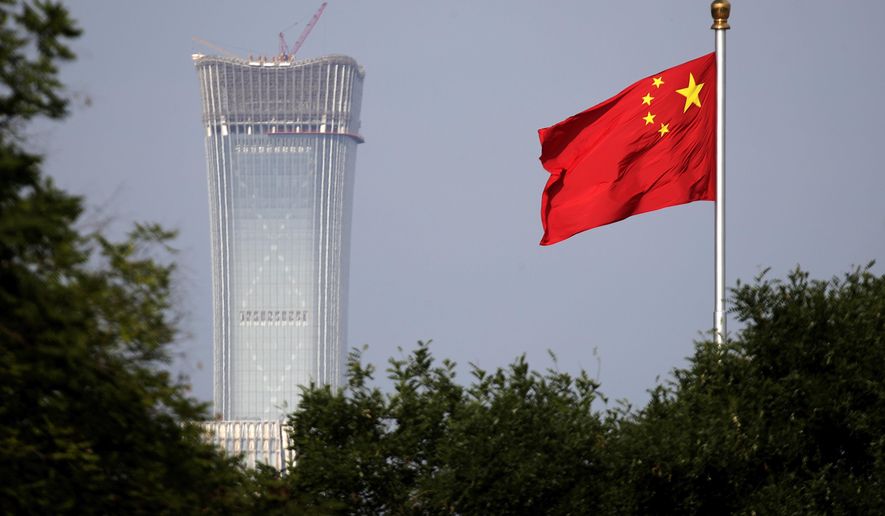 WASHINGTON (AP) - President Donald Trump has approved a plan to impose punishing tariffs on tens of billions of dollars of Chinese goods as early as Friday, a move that could put his trade policies on a collision course with his push to rid the Korean Peninsula of nuclear weapons.
Trump has long vowed to fulfill his campaign pledge to clamp down on what he considers unfair Chinese trading practices. But his calls for billions in tariffs could complicate his efforts to maintain China's support in his negotiations with North Korea.
Trump met Thursday with several Cabinet members and trade advisers and was expected to impose tariffs on at least $35 billion to $40 billion of Chinese imports, according to an industry official and an administration official familiar with the plans. The amount of goods could reach $55 billion, said the industry official. The officials spoke on condition of anonymity in order to discuss the matter ahead of a formal announcement.
If the president presses forward as expected, it could set the stage for a series of trade actions against China and lead to retaliation from Beijing. Trump has already slapped tariffs on steel and aluminum imports from Canada, Mexico and European allies, and his proposed tariffs against China risk starting a trade war involving the world's two biggest economies.
Chinese foreign ministry spokesman Geng Shuang said Friday that China's response would be immediate and that Beijing would "take necessary measures to defend our legitimate rights and interests."
Geng gave no details. Beijing earlier drew up a list of $50 billion in U.S. products that would face retaliatory tariffs, including beef and soybeans, a shot at Trump's supporters in rural America.
Trump's decision on the Chinese tariffs comes in the aftermath of his summit with North Korean leader Kim Jong Un. The president has coordinated closely with China on efforts to get Pyongyang to eliminate its nuclear arsenal. But he signaled that whatever the implications, "I have to do what I have to do" to address the trade imbalance.
Trump, in his press conference in Singapore on Tuesday, said the U.S. has a "tremendous deficit in trade with China and we have to do something about it. We can't continue to let that happen." The U.S. trade deficit with China was $336 billion in 2017.
Administration officials have signaled support for imposing the tariffs in a dispute over allegations that Beijing steals or pressures foreign companies to hand over technology, according to officials briefed on the plans. China has targeted $50 billion in U.S. products for potential retaliation....
Wall Street has viewed the escalating trade tensions with wariness, fearful that they could strangle the economic growth achieved during Trump's watch and undermine the benefits of the tax cuts he signed into law last year."If you end up with a tariff battle, you will end up with price inflation, and you could end up with consumer debt. Those are all