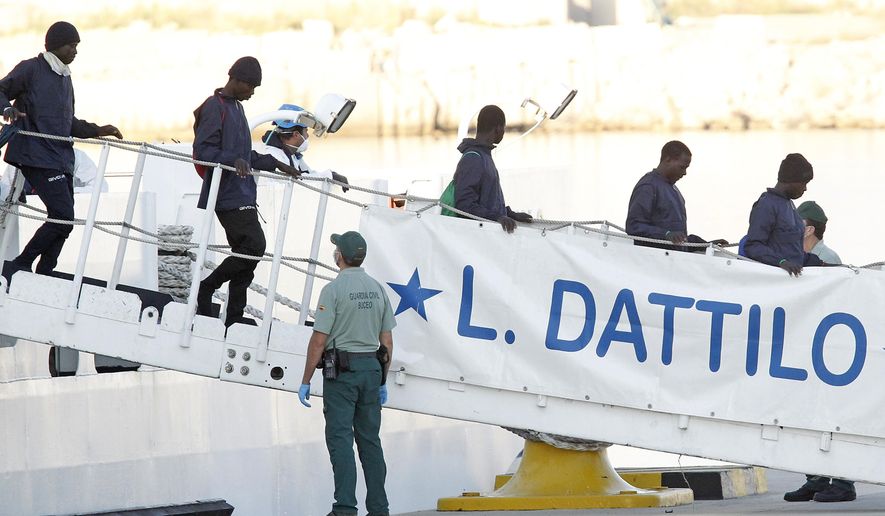 VALENCIA, Spain (AP) - Ships in the Aquarius aid convoy docked Sunday at the Spanish port of Valencia, ending a weeklong ordeal for hundreds of people who were rescued from the Mediterranean Sea only to become pawns in Europe's fight over immigration.
The Italian coast guard vessel Dattilo was the first of the three boats bearing the 630 migrants to touch land just before 7 a.m. Sunday. The 270 migrants on board soon began to disembark after medical staff had made a preliminary inspection.
The rescue ship Aquarius came in four hours later with another 106 migrants. Aid workers awaiting their arrival clapped and cheered as the first migrants walked down the gangway. Another Italian navy ship, the Orione, came in shortly after 1 p.m.
The Aquarius, operated by the aid groups SOS Mediterranee Sea and Doctors Without Borders, was stuck off the coast of Sicily on June 9 when Italy's new populist government refused it permission to dock and demanded that Malta do so. Malta also refused.
After days of bickering and food and water running low on the ship, Spain stepped in and granted the rescue boat entry. The 1,500-kilometer (930-mile) journey across the Mediterranean from Sicily to Valencia took nearly a week.
David Noguera, the head of Doctors Without Borders in Spain, said he was glad Spain allowed the migrants in but he's worried that more European nations will close their ports to those rescued at sea in the future.
"I have mixed feelings," Noguera told The Associated Press as the first boat arrived. "I am happy that the journey (for the Aquarius migrants) is over - a journey that was too long - and I am worried for the situation in the Mediterranean and the closing of European ports."
The migrants were met by emergency workers, health officials, Red Cross volunteers and psychologists at the city's marina. Each were assigned to a translator and authorities worked to determine their identities before they were sent to welcome centers. The first migrant was a 29-year-old man from South Sudan.
Valencia emergency official Jorge Suarez said some of the migrants were in a state of shock....
"They are very shaken," Suarez said. "Put yourself in their position, you get off a ship and the first people who greet you are wearing masks."He said an examination of the 130 migrants from the Dattilo did not reveal any serious health problems but many passengers showed signs of exposure to high temperatures at sea.Spanish authorities are examining the migrants on a case-by-case basis to see who may qualify for asylum.Due to their ordeal, the migrants from the Aquarius have been granted special authorization to remain in Spain for 45 days before they must begin resolving their legal situation."We have to strike a balance between our sensibilities and humanity and our respect for the law," said Spain's migration minister, Magdalena Valerio."These people could not be left adrift in the Mediterranean, where they