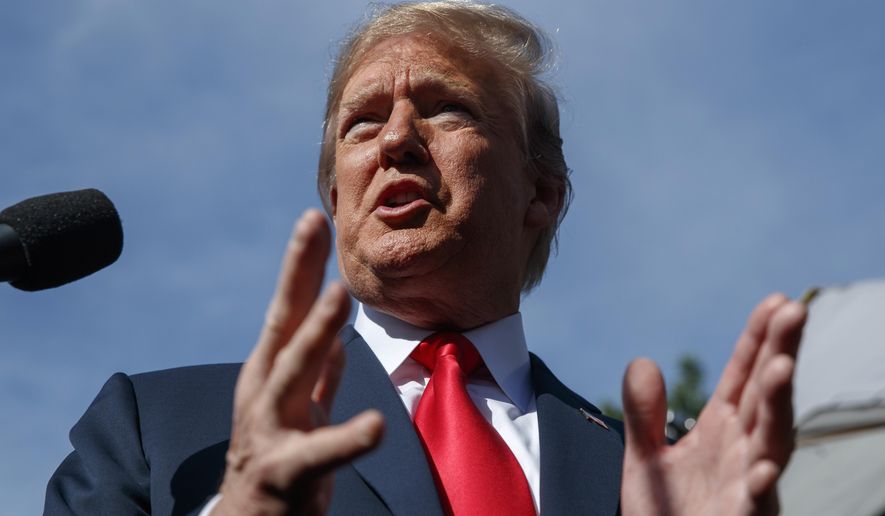 WASHINGTON (AP) - President Donald Trump[1] is exaggerating the achievements of his Singapore summit with North Korean leader Kim Jong Un, claiming the North has destroyed missile launch sites and no longer has "rockets flying over the place."
That's a distorted picture. North Korea[2] has revealed no action on eliminating launch sites, and it announced the suspension of nuclear weapons testing and certain missiles well before the summit, although as part of the diplomatic opening with the U.S.
On other matters over the past week, Trump[3] falsely blamed Democrats for an immigration policy of his administration that is splitting children from parents after their arrests at the border, made incorrect statements on trade and erred in asserting that he had been exonerated in the Russia investigation.
A look at the reality behind a variety of statements from the president:
TRUMP[4]: "No more nuclear testing or rockets flying all over the place, blew up launch sites. Hostages already back, hero remains coming home & much more!" - tweet Sunday.
THE FACTS: This much is true: North Korea[5] announced the suspension of nuclear-weapons testing and testing of intercontinental ballistic missiles in April, to soften the ground for the diplomatic opening with South Korea[6] and the U.S. North Korea[7] has not conducted a missile test since Nov. 28.
But it remains in possession of fissile material for a dozen to 60 nuclear bombs, independent experts say. Last year, it tested long-range missiles that could reach the U.S. mainland, although it's not certain that the North has mastered the technology to deliver a nuclear warhead that could re-enter the atmosphere and hit its target.
The summit produced a general agreement from North Korean leader Kim Jong Un to work toward denuclearization of the Korean Peninsula, but there were no specific commitments on eliminating or even reducing his country's nuclear arsenal.
As for Trump[8]'s other points, North Korea[9] has not said it blew up launch sites. And he is premature in asserting "hero remains coming home." This may happen, as Kim[10] agreed to work toward the return of U.S. troops missing in North Korea[11] from the Korean War. But as of Friday, no remains have been repatriated from North Korea[12] since 2007....
___
TRUMP
[13]
on a Justice Department report on the 2016
Clinton
[14]
email investigation: "I think that the report yesterday, maybe more importantly than anything, it totally exonerates me. There was no collusion. There was no obstruction. And if you read the report, you'll see that. … I think that the Mueller investigation has been totally discredited." - remarks to reporters Friday.THE FACTS: The report neither exonerated nor implicated
Trump
[15]
. It did not make any findings