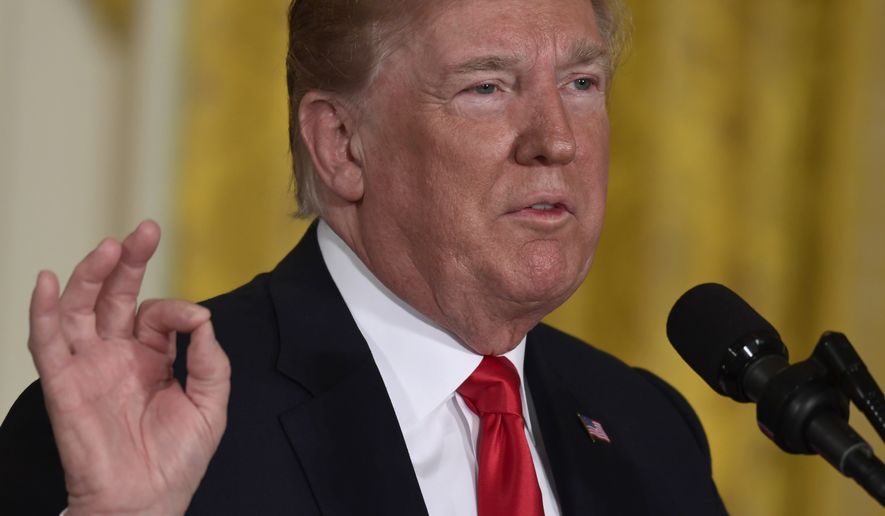 President Trump marked the annual Juneteenth celebration Tuesday with a statement honoring those who endured slavery in the U.S.
"As a nation, we vow to never forget the millions of African Americans who suffered the evils of slavery," Mr. Trump said. "Together, we honor the unbreakable spirit and countless contributions of generations of African Americans to the story of American greatness."
The celebration commemorates June 19, 1865, when Gen. Gordon Granger of the Union Army arrived in Galveston, Texas, to declare an end to the Civil War and issued an order freeing the remaining slaves in Texas. While not a national holiday, Juneteenth is a state holiday or a day of observance in most states and the District of Columbia to mark emancipation.
"This historic moment would not have been possible without the courage and sacrifice of the nearly 200,000 former enslaved and free African Americans who fought for liberty alongside more than 2 million Union servicemen," the president said. :These brave individuals fought to defend the God-given rights of those unjustly held in bondage."...
His statement concludes, "Today and every day, we recommit ourselves to defending the self-evident truth, boldly declared by our Founding Fathers, that all people are created equal."
The Washington Times Comment Policy
The Washington Times welcomes your comments on Spot.im, our third-party provider. Please read our Comment Policy
[1]
before commenting.References
^
Comment Policy
(www.washingtontimes.com)