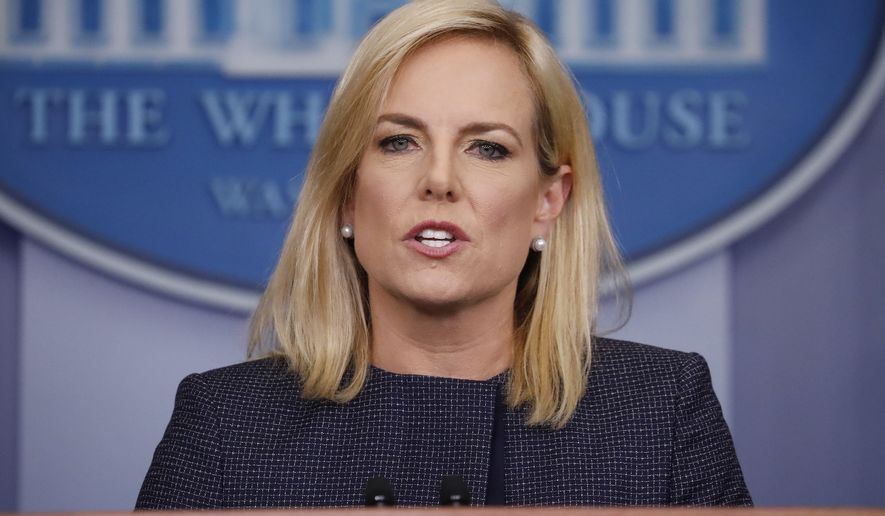 Homeland Security secretary Kristjen Nielsen had her dinner plans Tuesday night torpedoed by shouting socialist protesters angry at immigration enforcement, which they said should not exist.
Ms. Nielsen had sat down at MXDC Cocina Mexicana restaurant on 14th Street, a couple of blocks from the White House, when a number of members of the Metro D.C. Democratic Socialists of America began yelling in the restaurant.
According to a self-taken video posted on Facebook, the protesters yell "can you enjoy a Mexican dinner as you're deporting … tens of thousands of people who come here seeking asylum in the United States."
Demonstrators begin chanting "abolish ICE" and "shame, shame, shame!!"
"If kids don't eat in peace, you don't eat in peace!" they continued.
They eventually drove her from the restaurant.
"Secretary Nielsen and everyone else who has carried out these brutal and cold-blooded orders to rip apart families should never be allowed to eat and drink in public again," Margaret McLaughlin of socialist group told reporters.
"While Secretary Nielsen's dinner may have been ruined, it is nothing compared to the horrors she has inflicted on innocent families," she continued....
According to the socialist group, nobody was arrested."The irony isn't lost on us that this is a Mexican restaurant," the group added in its Facebook post.
The Washington Times Comment Policy
The Washington Times welcomes your comments on Spot.im, our third-party provider. Please read our Comment Policy
[1]
before commenting.References
^
Comment Policy
(www.washingtontimes.com)