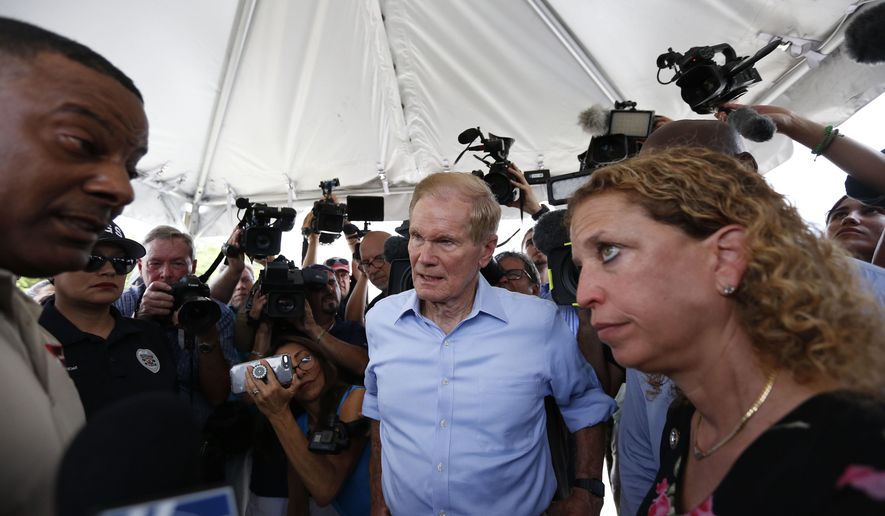 HOMESTEAD, Fla. (AP) - U.S. Sen. Bill Nelson accused the Trump administration[1] of a "cover-up" after officials denied him entry Tuesday to a detention center for migrant children in South Florida where he had hoped to survey living conditions.
Nelson and U.S. Rep. Debbie Wasserman Schultz, both Florida Democrats, went to the contractor-run Homestead Temporary Shelter for Unaccompanied Children following reports it was receiving detained children who had arrived in the country illegally.
Wasserman Schultz said the facility was being used for an estimated 1,000 children, aged 13 to 17 - most of whom arrived as unaccompanied minors and about 10 percent of whom are children separated from their families at the border. She said two other South Florida facilities were being used for younger children.
"It is an affront as the senior senator of this state that an agency head would tell me that I do not have entrance into a federally funded facility where the lives and health of children are at stake," Nelson said.
President Donald Trump's immigration policies have drawn intense scrutiny following reports of the forced separation of migrant children from their parents. Democrats and some Republicans are urging an end to the practice at the U.S.-Mexico border. Thousands of children split from their families at that border are being held in government-run facilities.
Wasserman Schultz said her staff had spoken Tuesday with the Florida-based company, Comprehensive Health Services, contracted to run the facility. She said her staff was told the lawmakers would be "welcomed warmly and allowed into the facility."
But Nelson said Deputy Secretary of Health and Human Services Eric Hargan told him it would take two weeks for them to gain access.
"I think what they're doing is a cover-up for the president," Nelson said.
Trump doesn't like the negative response he's received, even from fellow Republicans, Nelson said....
"Are they abusing these kids? Are they sleeping on the floor? Are they in cages, like we've seen in some videos?" Wasserman Schultz asked after being barred from the building.The Florida facility is overseen by the U.S. Department of Health and Human Services. Department spokesman Kenneth Wolfe said in an email Monday that it had reopened as "a temporary unaccompanied alien children program facility." He did not provide further details.Gov. Rick Scott's office, however, released documents Tuesday that showed that federal authorities in February notified state officials and members of Congress that the Homestead facility would be reopened. Federal authorities didn't give an exact date, but said the Homestead location would reopen after damage from Hurricane Irma was repaired. The release from HHS also stated that the facility would only be used for "unaccompanied alien children" detained by immigration officials.Later Tuesday, Scott called on Trump's administration to stop separating the families. The Republican governor sent his request in a letter to Health and Human Services Secretary Alex Azar. Scott's letter also requested that federal authorities notify state officials when