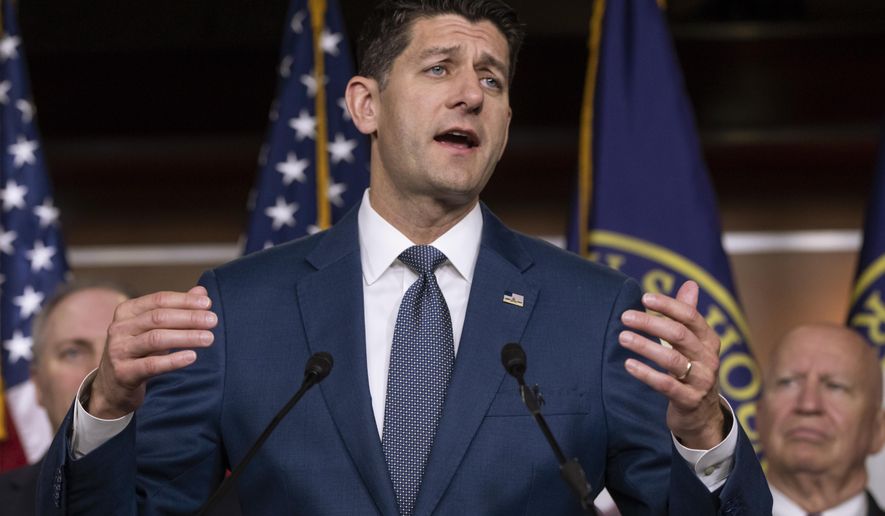 While President Donald Trump[1] boasts about signing an executive order that he says fixes the problem he created by forcibly separating more than 2,300 children from their parents at the U.S.-Mexico border, House GOP leaders were working to get reluctant party members on board to resolve broader immigration issues ahead of a vote Thursday. Democrats seized the opportunity to highlight yet another one of the Trump administration[2]'s self-inflicted wounds, but die-hard Trump[3] supporters see no issues with the president's about-face.
A look at the latest developments:
CAN REPUBLICANS FIX IMMIGRATION?
House GOP leaders were working furiously to get reluctant Republicans on board in hopes of resolving broader immigration issues ahead of the November midterm elections.
But the sweeping House GOP immigration overhaul looked uncertain at best as lawmakers struggled to move past an issue that has become politically fraught amid the dire images and audio of families being separated at the border.
Passage of the bill was always a long shot, but failure may now come at a steeper price as Republicans - and Trump[4] - have raised expectations that, as the party in control of Congress and the White House, they can fix the nation's long-standing immigration problems.
Ahead of voting Thursday, the results of the outreach were mixed.
"We have a chance," said Rep. Carlos Curbelo, R-Fla. "It won't be easy."
NEW GUIDELINES CAUSE CONCERN, CONFUSION...
President
Donald Trump
[5]
on Wednesday said he didn't like seeing families separated at the Mexico border and reversed the policy that has already separated more than 2,300 children from their parents, sparking worldwide outrage.But there is confusion over how the new guidelines will play out and concern that they don't go far enough, allowing children to still be held in detention even if they remain with their families.Peter Schey, the lawyer in a lawsuit that resulted in a key agreement governing the treatment of migrant children in detention called the Flores settlement, said he was concerned that several thousand children have already been separated from their parents "without the
Trump administration
[6]
having any effective procedures in place to reunite children with their parents, many of whom have already been deported."Officials have said they are working to reunite families as soon as possible but have provided no clear answers on how that will happen.ABOUT FACE, BUT WHY?In the face of mounting bipartisan criticism and amid heartbreaking tales of toddlers kept from their parents, President
Donald Trump
[7]
reversed a policy Wednesday that he first said only Congress could solve.White House officials, advocates and congressional leaders were blindsided when word emerged that
Trump
[8]
was considering doing precisely what he'd forcefully claimed he couldn't do - act unilaterally to quell a growing humanitarian and political crisis. What changed? Brookings Institution senior fellow Bill Galston, a presidential scholar and a Clinton White