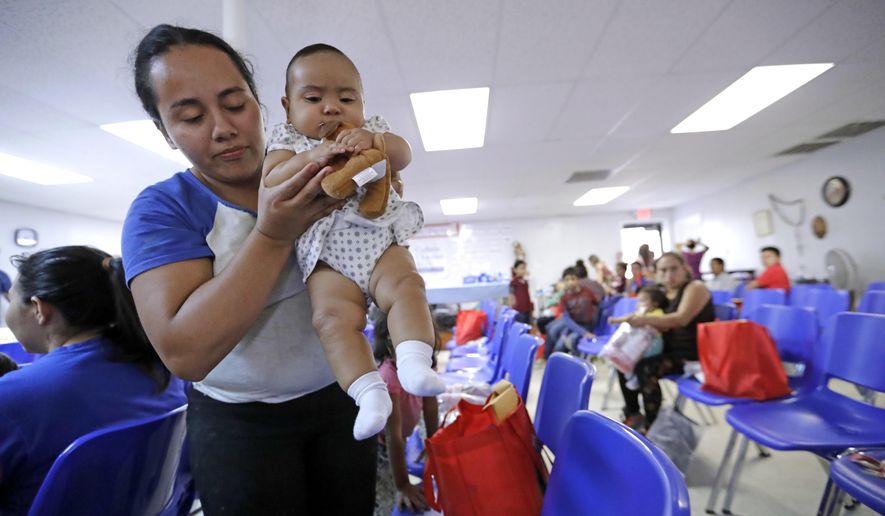 MCALLEN, Texas (AP) - The Latest on the separation of immigrant children from their parents (all times local):
2:50 p.m.
About 100 people have gathered at the Tornillo, Texas, border crossing from Mexico to protest the separation of children and the detention of families.
Former San Antonio mayor and ex-Housing and Urban Development Secretary Julian Castro told demonstrators Sunday that it's an issue "about what is right and what is wrong."
The El Paso Times reports protesters chanted "Free the children now."
More than 2,000 children were taken from their families in recent weeks under a Trump administration "zero tolerance" policy in which people entering the U.S. illegally face being prosecuted.
President Donald Trump tweeted in frustration Sunday that border crossers shouldn't be entitled to a day in court.
The American Civil Liberties Union responded in a statement that the president's suggestion was "both illegal and unconstitutional."
___
1:40 p.m.In the Texas town of McAllen, Central American asylum-seekers are being released and are dispersing across the U.S.That is admittedly only one snapshot of the unsettled situation along the nation's southern border, where President Donald Trump's reversal on separating families has sown chaos and uncertainty and there has been little guidance from the administration.Among those set free is Manuel Martinez, who says he fled Honduras because gangs were trying to recruit his 12-year-old son.Martinez was prepared to be separated from his child after paying a smuggler to cross the Rio Grande by boat and getting arrested by the U.S. Border Patrol. But his worst fears never came true.Father and son were reunited on Saturday, after five days apart, and were released into the U.S. while Martinez pursues asylum.
Copyright © 2018 The Washington Times, LLC. ...
The Washington Times Comment Policy
The Washington Times welcomes your comments on Spot.im, our third-party provider. Please read our Comment Policy
[1]
before commenting.References
^
Comment Policy
(www.washingtontimes.com)