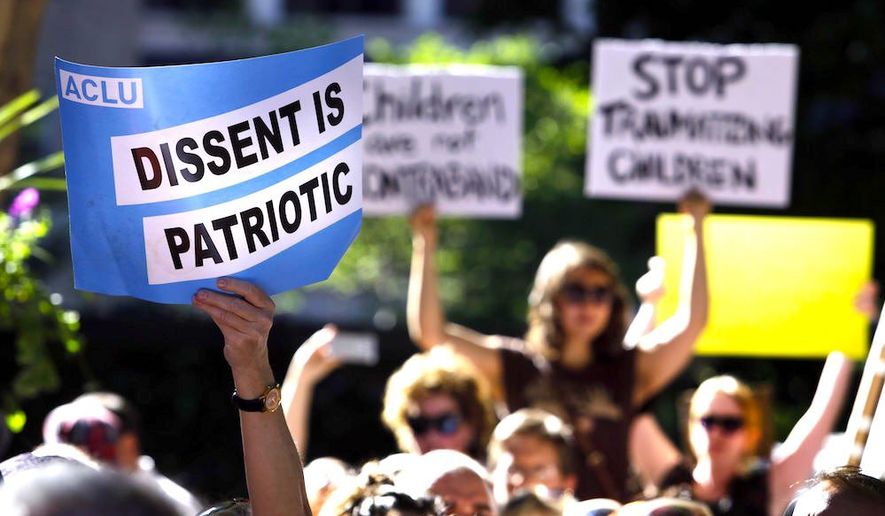 The news media continues to provide shrill coverage of partisan discord, political unrest and the disquieting experiences of White House press secretary Sarah Huckabee Sanders, recently banished from a restaurant, and Homeland Security Secretary Kirstjen Nielsen, harassed by critics at a restaurant and again at her home. Discussion on both sides is rampant; the hashtag #civility led the national list of trends on Twitter in the last 24 hours.
"A soft civil war is well under way," says USA Today columnist and University of Tennessee law professor Glenn Reynolds, who predicts this discord will probably get worse.
"Hollywood has basically turned its products, and its award shows, into showcases for 'the resistance.' Americans are already sorting themselves into communities that are predominantly red or blue," Mr. Reynolds writes.
"Americans, who used to know how to disagree with one another without being mutually contemptuous, seem to be forgetting this. And the news media, which promote shrieking outrage in pursuit of ratings and page views, are making the problem worse," he continues, noting that churches, neighborhoods and fraternal organizations once crossed political lines and kept communication open.
"For many people, politics seems to have become a substitute for religion or fraternal organizations. If you find your identity in your politics, you're not going to identify with people who don't share them. The rules of bourgeois civility also helped keep things in check, but of course those rules have been shredded for years," says Mr. Reynolds. "America had one disastrous civil war, and those who fought it did a surprisingly good job of coming together afterward, realizing how awful it was to have a political divide that set brother against brother. Let us hope that we will not have to learn that lesson again in a similar fashion."
THINGS GET COMPLICATED
Judicial Watch has filed an ethics complaint against Rep. Maxine Waters for "inciting violence and assaults on the Trump Cabinet," according to Tom Fitton, president of the watchdog organization, which sent a hand-delivered letter to the chairman and co-chairman of the House Office of Congressional Ethics calling for a preliminary investigation into whether the California Democrat violated House ethics rules during a weekend rally in Los Angeles.
"In encouraging individuals to create 'crowds' who will 'push back' on President Trump's Cabinet members at private business establishments and in seemingly trying to prevent these Cabinet officials from obtaining basic necessities without fear of assault and violence, Rep. Waters seems to be violation of House rules," Mr. Fitton wrote.
He cited House Rule 23, clause 1, which requires lawmakers to behave "in a manner that shall reflect creditably on the House."...
"Rep. Maxine Waters incited violence and assault against members of Trump's Cabinet. It is urgent that the House ethics quickly act to hold her accountable for this dangerous incitement," Mr. Fitton says.MARK LEVIN: BROADCAST HERO
Mark Levin
, a media