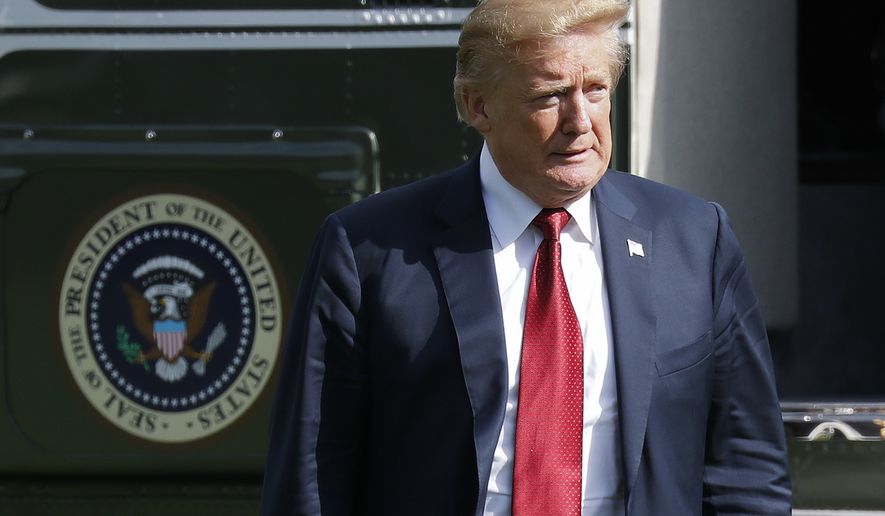 Youth is a factor as President Trump searches for his pivotal nominee to replace Justice Anthony M. Kennedy on the Supreme Court, a task that the president said Thursday is already in high gear.
The president is looking for a nominee who can leave a conservative mark on the high court for most of the next half-century, extending Mr. Trump's impact far beyond his presidency.
"We have to pick one that's going to be there for 40 years, 45 years," Mr. Trump said Wednesday night.
That would seem to favor a nominee younger than 50, of which there are nine on the president's list of 25 potential candidates. The youngest is Oklahoma Supreme Court Justice Patrick Wyrick, who is 37.
The others in the below-50 age bracket are Georgia Supreme Court Justices Britt Grant (40) and Keith Blackwell (42), 8th U.S. Circuit Court of Appeals Judge David Stras of Minnesota (43), 11th U.S. Circuit Court of Appeals Judge Kevin Newsom of Alabama (45), 7th U.S. Circuit Court of Appeals Judge Amy Coney Barrett of Indiana (46), Sen. Mike Lee of Utah (47), 6th U.S. Circuit Court of Appeals Judge Joan Larsen of Michigan (49) and 6th U.S. Circuit Court of Appeals Judge Amul Thapar of Kentucky (49).
Court watchers agree that the trend is for presidents to choose younger nominees, although they are not sold on the wisdom of that move.
"The trend among presidents is to get younger and younger nominees. If this trend continues, we should have our first fetal nominee within 10 years," said Jonathan Turley, a law professor at George Washington University.
Scott Boddery, a professor at Gettysburg College, said age can be a double-edged sword. Young nominees have a longer tenure on the court, but inexperience could fumble a confirmation hearing.
"Given the high profile of Supreme Court confirmation proceedings, presenting the Senate with a young, inexperienced jurist would be a political misstep," said Mr. Boddery....
Many observers are intrigued by Judge Barrett, a former Notre Dame Law School professor who was pressed by Senate Democrats at her confirmation hearing last year over her Catholicism's impact on her judicial views. While Senate Democrats are likely to oppose any Trump nominee, rejecting a female candidate in the midst of a midterm election campaign could complicate their work.At her circuit court confirmation last year, Judge Barrett received the support of all Senate Republicans and three Democrats: Sens. Joe Donnelly of Indiana, Tim Kaine of Virginia and Joe Manchin III of West Virginia.Her confirmation vote in October was 55-43, but Josh Blackman, a professor at South Texas College of Law, said lacking widespread bipartisan support isn't a factor for the president to consider."The magic number here is 50. You need 50 plus Pence to break the tie," Mr. Blackman said. "You don't need bipartisan support anymore. Maybe that's somewhat regrettable, but it's the world we live in now."According to legal analysts, we also live in a world