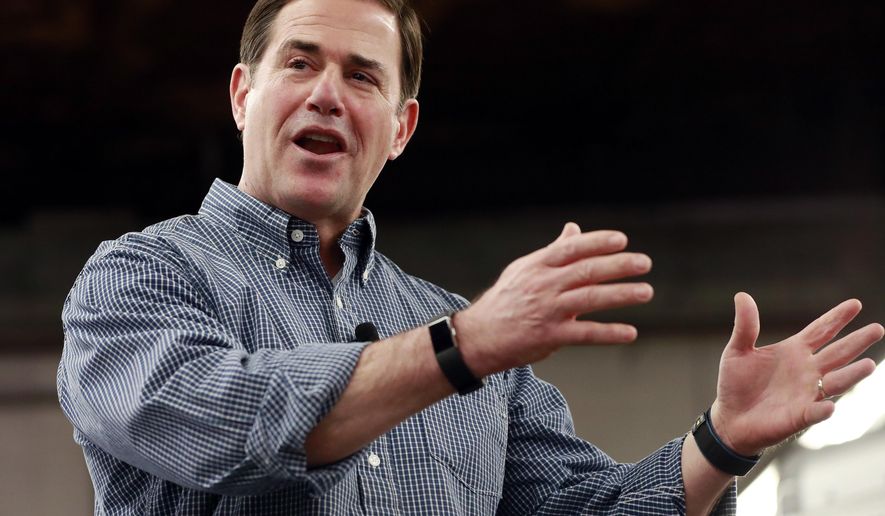 PHOENIX (AP) - The outrage sparked by the sights, sounds and stories of children separated from parents at the U.S.-Mexico border underscores the outsized role immigration will play in the midterms in Arizona.
On all sides of the political spectrum, campaigns are emphasizing immigration policies with would-be voters as Democrats push to make gains in traditionally conservative Arizona, where more than 1 in 8 residents is an immigrant.
"The government hasn't had enough to just say, 'Out with the immigrants,'" Betty Guardado said to a crowd of around 100 attendees at a recent rally at the state Capitol to protest a policy of separating immigrant parents and children at the U.S. border. "Now they're going after our children."
Guardado, a vice president of labor union Unite Here Local 11 that represents hotel, gaming and other workers, spoke at the first rally organized by Mi AZ. The new advocacy organization joins together multiple social justice groups to work on voter outreach for the midterm elections. Attendees blasted Republican Gov. Doug Ducey for not doing enough on the issue of separated families, while Guardado and others said they plan to vote out lawmakers over immigration policies.
"This state is going to turn blue!" Guardado said to cheers.
Republicans, too, are digging into debates about immigration, as they've focused on border security for decades. An advertisement from Virginia-based political nonprofit One Nation playing on Phoenix-area country radio describes "violent gang members" crossing the border, then praises U.S. Senate candidate Rep. Martha McSally and congressional candidate Rep. David Schweikert for supporting President Trump's plan to build a wall.
Barrett Marson, a longtime Republican political consultant, said immigration is a top issue for both parties but especially among GOP voters, many of whom expect candidates to have a strong stance on border safety.
"Arizonans are very concerned about immigration and are paying attention to where candidates stand," he said. "It is a hot button issue that truly piques the interest of the electorate."
For many Arizona families, the immigration issue is personal. The American Immigration Council, a D.C-based advocacy group that studies immigration, said more than 13 percent of Arizona's population as of 2015 were individuals who were born in another country. A little more than 56 percent of that group came from Mexico. Canada was the next most frequent country of origin at 4.2 percent....
As of 2016, 18.4 percent - or 1.2 million people -were native-born Americans who had at least one parent who was an immigrant. That same year, more than 25,000 Deferred Action for Childhood Arrivals recipients lived in Arizona, the council said.Jalakoi Solomon is the state director of NextGen Rising AZ, a youth vote initiative that holds registration events. She said immigration is one of the most common topics that's cited on survey cards asking young voters what issues they care about."Young people are concerned about having a heart," Solomon said. "We are looking for politicians that hold our