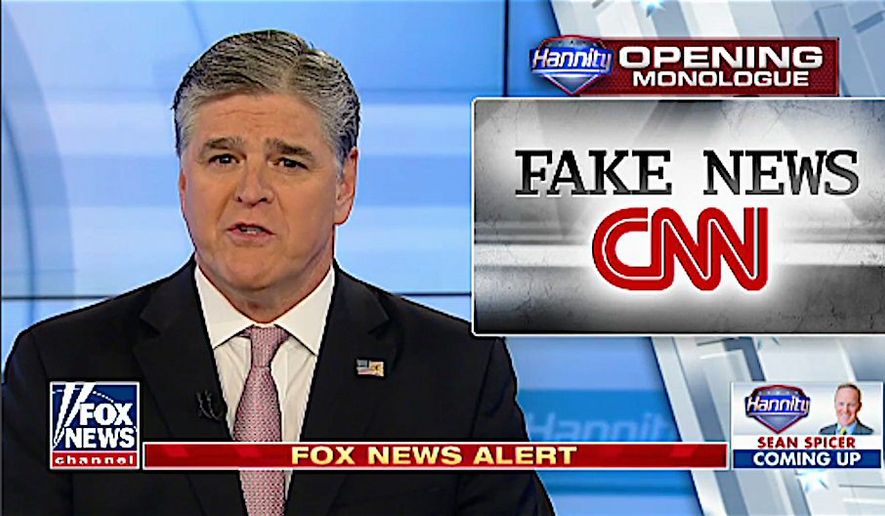 Fox News host Sean Hannity[1] has accused the media of overreacting to Rudy Giuliani[2]'s remarks about President Trump[3] repaying the money his personal attorney Michael Cohen[4] spent silencing adult film actress Stormy Daniels[5].
In his first television broadcast since Mr. Giuliani[6]'s admission on "Hannity[7]" this week, the conservative commentator lashed out at competing cable and network news networks over their reporting on his program.
"If you can believe it, all the news we just laid out for you, all those crucial developments that you just watched that we aired last night live on this program, were largely ignored by the abusively biased news media in this country," Mr, Hannity[8] said Thursday. "Instead, for 24 hours these lazy, these abusively biased echo chamber people in the fake news overpaid media have been erupting over only one 30 second clip again and again and again."
"How many times have I said journalism in America is dead? It's almost unbelievable but it's all too predictable. The media just cannot stop playing this show, meaning 'Hannity[9],' and the interviews that we conduct. It seems like they're featuring me more than their own hosts," the host added.
One of the newest members of Mr. Trump[10]'s legal team, Mr. Giuliani[11] made waves after admitting on Wednesday's episode of "Hannity[12]" that the president personally repaid Mr. Cohen[13] the $130,000 he spent as part of a non-disclosure agreement reached with the porn actress in 2016, contradicting the president's previous statements.
"They funneled through a law firm and the president repaid it," the former New York City mayor said in the interview.
According to the Fox News host, however, competing news outlets misinterpreted Mr. Giuliani[14]'s remarks.
"The media's analysis, their interpretation, is all wrong," said Mr. Hannity[15]. "This doesn't change the fact that President Trump[16] did not initially know about the payment, or that the purpose of the payment that he didn't know initially until a long time after the transaction took place."
Mr. Cohen[17] has admitted paying the adult-film actress days before the 2016 U.S. presidential election to keep the actress from disclosing an alleged affair she had over a decade ago with an individual she's identified as Mr. Trump[18]. Watchdog groups have said that her silence could have swayed the results of the race, and that campaign finance laws may have been violated if Mr. Trump[19] repaid Mr. Cohen[20] and failed to report it as a campaign expense....
"Everything said has been said incorrectly,"
Mr. Trump
[21]
told reporters Friday morning. "When
Rudy
[22]
made the statements —
Rudy
[23]
is