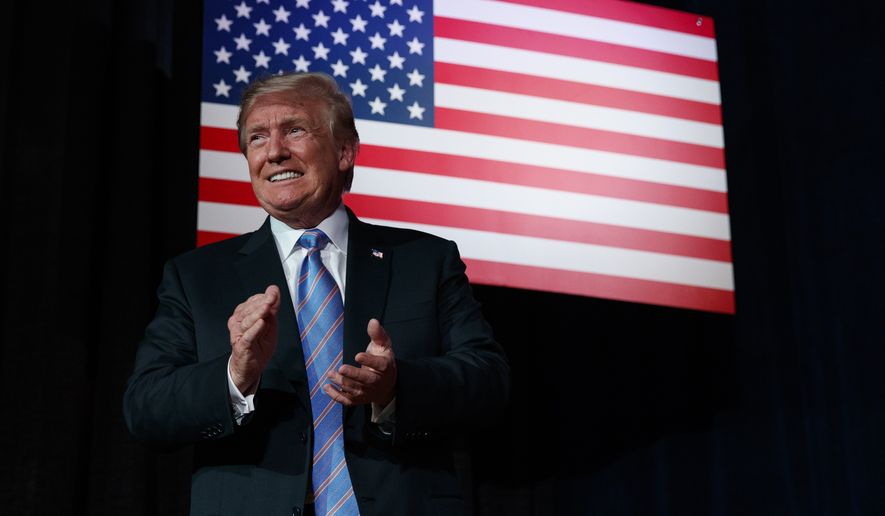 President Trump[1] on Tuesday called on Americans to remember the country's military members when celebrating the Fourth of July.
"We will thank God for blessing us with the unbelievable heroes," Mr. Trump[2] said in a speech at the "Salute to Service" dinner at a resort in White Sulphur Springs, West Virginia.
The president said that this holiday Americans should "think of the men and women serving overseas."
"At this very moment [they are] far away — far, far away from their families, protecting America [and] watching over our people," he said. "They are there and they are with us. And they are brave, these are incredible people."
Mr. Trump[3] delivered the keynote speech at the first annual "Salute to Service" dinner at the Greenbriar, which is hosting a golf tournament as part of a Fourth of July tribute to the military.
In the speech, the president touted the strong economy, increased spending on the military and new laws to improve medical care for military veterans.
Mr. Trump[4] dove into the political battle over immigration, slamming Democrats who want to abolish Immigration and Customs Enforcement, or ICE.
"We want border security. We want security in our country. We respect ICE," he said. "ICE — these are tough people."
He credited ICE officers with removing MS-13 gang members from American cities and towns, which he said was akin to liberating a town in a war....
"Then I hear Democrats saying we are going to abandon ICE. … We are not abandoning our law enforcement — just the opposite," said
Mr. Trump
[5]
.
The Washington Times Comment Policy
The Washington Times welcomes your comments on Spot.im, our third-party provider. Please read our Comment Policy
[6]
before commenting.References
^
Trump
(www.washingtontimes.com)
^
Mr. Trump
(www.washingtontimes.com)
^
Mr. Trump
(www.washingtontimes.com)
^
Mr. Trump
(www.washingtontimes.com)
^
Mr. Trump
(www.washingtontimes.com)
^
Comment Policy
(www.washingtontimes.com)