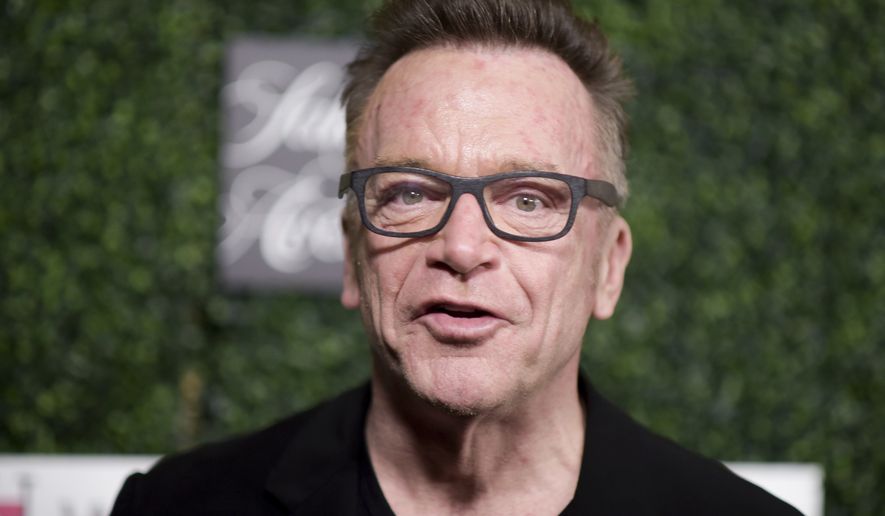 Tom Arnold has filled a variety of roles in his checkered career: actor, comic, writer, TV sports show host.
Now the former Mr. Roseanne Barr has another entry for his resume: journalist.
Viceland, the documentary-producing, millennial-focused cable network, has dispatched the 59-year-old podcaster on "The Hunt for the Trump Tapes with Tom Arnold." Founded on Mr. Arnold's obsession for taking down President Trump, the "news" program finds the wannabe investigative reporter scrambling for evidence that casts Mr. Trump in the most negative light possible, including the rumored "pee tapes."
Only its timing couldn't be worse: A raft of studies and reports show that public trust in the media is collapsing. In a just-released study by Axios and SurveyMonkey, 72 percent of respondents said "traditional major news sources report news they know to be fake, false or purposely misleading."
What's more, in a recent appearance on CNN, Mr. Arnold shared erroneous information about teaming with former Trump personal attorney Michael Cohen. The comedian also appeared evasive in some of his responses, further damaging his credibility.
Richard Laermer, chief executive of RLM Public Relations Inc. and co-author of "Punk Marketing: Get Off Your Ass and Join the Revolution," called Viceland's decision to team with Mr. Arnold an act of desperation.
"The only way it could work is if he gets all of his celebrity friends to come aboard and tell tall tales from Hollywood," Mr. Laermer said. "But that would screw up Vice's brand of hard-hitting journalism."
Viceland launched in 2016 as part of the expanding Vice news empire, promising a different kind of lifestyle channel catering to millennials. Director Spike Jonze, who helped guide the channel in its early days, promised it wouldn't be the same as the Vice news programming on HBO and wouldn't be "fair and balanced" in its reporting.
Mr. Laermer lauded the HBO show's journalism as well as other Vice products....
"The magazine is pretty hard-hitting. Now, they're going to go kerplunk [with Mr. Arnold's show]," he said.Vice did not respond to requests for comment. The cable channel's initial announcement for the show said seasoned journalists would guide Mr. Arnold along the way.Christine Tatum, former national president of the Society of Professional Journalists, said Mr. Arnold's Vice project continues "the dumbing-down of journalism.""We need thoughtful and thorough investigation and analysis presented with a commitment to accuracy and fairness, but we get agenda-driven hit jobs edited for grins and giggles and to stir anger instead," said Mrs. Tatum, chief executive officer of Media Salad, a communications consultancy based in Denver.She said Mr. Arnold's mea culpa over claims he had teamed with Mr. Cohen is enough of an issue to stain any journalist's career — and that was months before the show's debut later this year."But oh, right, he's not a journalist. He's an actor and comedian, as we should all prepare to be told over and over as he trips his way through this project," Mrs. Tatum