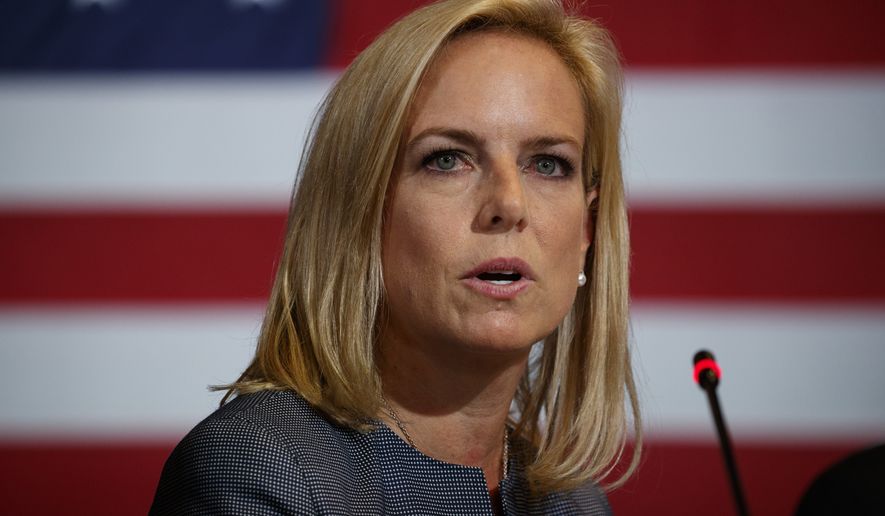 The Trump administration[1] will renew special humanitarian protections for people from Yemen in the U.S. because of the ongoing conflict in their home country, officials said Thursday.
Homeland Security Secretary Kirstjen Nielsen's grant of Temporary Protected Status applies to about 1,250 Yemenis who already were in the U.S. as of the beginning of 2017.
She granted a new 18-month extension to them.
But critics said she should have gone further and opened up a brand new registration period, which would have allowed Yemenis who came the U.S. after the January 2017 deadline to apply.
They said the conditions in Yemen remain dire, with much of the country an active war zone, and forcing Yemenis to return home will send them back to suffering.
"Once again, today the Trump administration[2] made a heartless, cruel decision to slam shut the United States' doors to some of the world's most vulnerable people," said Stephen Miles, director of Win Without War, an activist group.
The International Rescue Committee said the Middle Eastern country's entire 22 million population is affected by the war, which has driven 3 million people from their homes. Some 8 million are on the brink of starvation, the group said.
The IRC said it didn't understand why the administration[3] would draw a dividing line in January 2017 when people are still fleeing.
It's the latest TPS decision under President Trump to spark controversy....
His government has announced an end to exemptions for a number of countries that had been on the protected list for nearly two decades, including Honduras, El Salvador and Nicaragua. Haiti, which had been on the list since a 2010 earthquake, is also about to lose status.TPS grants tentative legal status and work permits to people caught in the U.S. — including immigrants who crossed the border illegally and others who were on temporary visas that expired.Critics have accused the
administration
[4]
of being callous in its decisions to cancel TPS, saying it's part of Mr. Trump's antipathy toward migrants.Yet the decision to extend TPS for Yemen, which joins Syria and South Sudan as countries where a full extension has been granted, signals the
administration
[5]
is not opposed to the TPS program in principle.To qualify for TPS a country must have faced a major catastrophe, such as a natural disaster or war or epidemic. The status is meant to keep a home country from being overwhelmed by the return of its people, and meant to keep those people from facing dangers back home.In the case of Haiti, Nicaragua, El Salvador and Honduras, the
Trump administration
[6]
concluded they have finally recovered from their natural disasters — in some cases dating back to the turn of the century — and are ready to take back their people.The
administration
[7]
also announced it would end status for Sudan, which had been