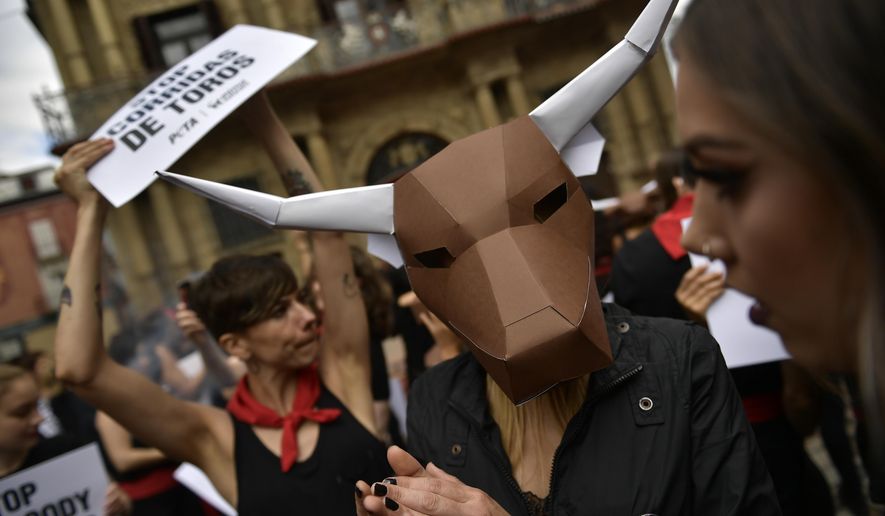 PAMPLONA, Spain (AP) - The topics of sexual abuse and animal cruelty are dominating this year's San Fermin festival in Pamplona[1], which kicks off Friday for nine days and eight nights of round-the-clock alcohol-soaked partying, traditional celebrations and dangerous bull runs.
It's not a full-blown identity crisis yet, but the festival in northern Spain popularized by American novelist Ernest Hemingway and seen by critics as a macho proving ground with a violent streak is slowly adapting to the social awareness brought by a new generation.
Sexual assaults reported during the festival went from two in 2008 - the year a local woman was murdered after she refused to have sex with her killer - to 20 in 2016, when five men cornered an 18-year old, filmed themselves sexually attacking her and left after stealing her phone. The figures, from a study by the Public University of Navarra, rose to 22 last year amid growing public outrage.
"I don't want my city to be known as a place for rampant sexual abuse or the torture of animals," said Jana Uriz[2], 32, a local animal-rights activist among those demanding a "sexual-abuse free" festival.
Authorities have been able to identify suspects in nearly 95 percent of the cases in Pamplona[3], where the 2016 "Wolfpack case" - named after the WhatsApp group the perpetrators used to share their abuse videos - marked a tipping point that galvanized Spain's own #MeToo movement.
Outrage fueled protests in the streets after a provincial court cleared the five men of rape charges and sentenced them to nine years behind bars on a lesser charge of sexual abuse. The government launched a revision of the punishments for sexual crimes, but when the men were released on bail last month pending a decision on their appeal, angry crowds again hit the streets.
Authorities in Pamplona[4] responded by improving their handling of victims, stepping up police surveillance and training and launching 24-hour hotlines and a new mobile app that allows the instant reporting of abuse, including victims' real-time locations.
But for some activists, the measures are not enough.
Naia Mira, 22, was among hundreds of women, most in their twenties, marching in Pamplona[5] on Wednesday night, holding banners denouncing what they call a patriarchy that permeates all levels of life in Spain....
"Fear needs to change sides," said Mira, adding that distrust in the judicial system is pushing some feminists to push for more self-defense.The city's left-wing mayor, Joseba Asiron, says that "
Pamplona
[6]
is leading the push against sexual aggression," as officials reassure visitors that the festival is safe for both women and men to enjoy.But Asiron, a 56-year-old historian whose term ends next spring, has also raised eyebrows ahead of this year's festival by questioning the future of bullfights, a tradition at the core of the festival."I don't envision a San