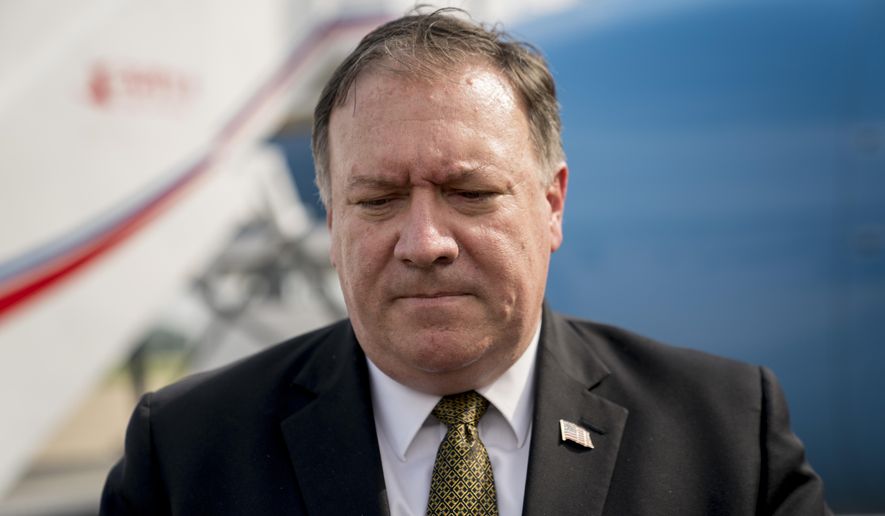 TOKYO (AP) - U.S. Secretary of State Mike Pompeo[1] on Sunday brushed aside North Korea[2]'s accusation of "gangster-like" demands, maintaining that his third visit to the country was producing results but vowing that sanctions would remain until Pyongyang[3] follows through on leader Kim Jong Un[4]'s pledge to get rid of his nuclear weapons.
Pompeo[5] downplayed North Korea[6]'s statement after the talks in which the country's foreign ministry bashed hopes for a quick deal and accused the U.S. of making "gangster-like" demands aimed at forcing it to abandon nuclear weapons.
The North's statement, coming so soon after Pompeo[7]'s trip, was sure to fuel growing skepticism in the U.S. over how serious Kim[8] is about giving up his nuclear arsenal.
"If those requests were gangster-like, the world is a gangster," Pompeo[9] said, noting that numerous U.N. Security Council resolutions have demanded that the North rid itself of nuclear weapons and end its ballistic missile program.
"People are going to make stray comments after meetings," Pompeo[10] said. "If I paid attention to the press, I'd go nuts."
Speaking after meeting with his Japanese and South Korean counterparts in Tokyo, Pompeo[11] said his two days of talks in Pyongyang[12] had been productive and conducted in good faith. But following the stinging commentary from the North, he allowed that the goal of denuclearization would be difficult and that much work remains.
"The road ahead will be difficult and challenging and we know critics will try to minimize what we have achieved," he said. Two days of talks with senior North Korean officials had "made progress," he said, and included a "detailed and substantive discussion about the next steps."
Those include the formation of working group to determine exactly how North Korea[13]'s denuclearization will be verified and a Thursday meeting with Pentagon officials to discuss the return of remains of Americans soldiers killed during the Korean War.
Pompeo[14] sought to dispel suggestions that the Trump administration has backed down from demanding the complete, verifiable and irreversible dismantlement of the North's nuclear weapons. He said North Korea[15] understood that denuclearization must be "complete" and "verified."...
However,
Pompeo
[16]
said the progress achieved thus far did not warrant any concessions. "While we are encouraged by the progress of these talks, progress alone does not justify the easing of the sanctions regime," he said."Sanctions will remain in place until final fully verified denuclearization as agreed to by Chairman
Kim Jong Un
[17]
has occurred," he said.After the historic U.S.-
North Korea
[18]
summit in Singapore, President Donald Trump declared the North was no longer a threat and would hand over the remains of American soldiers. Yet three weeks later, the